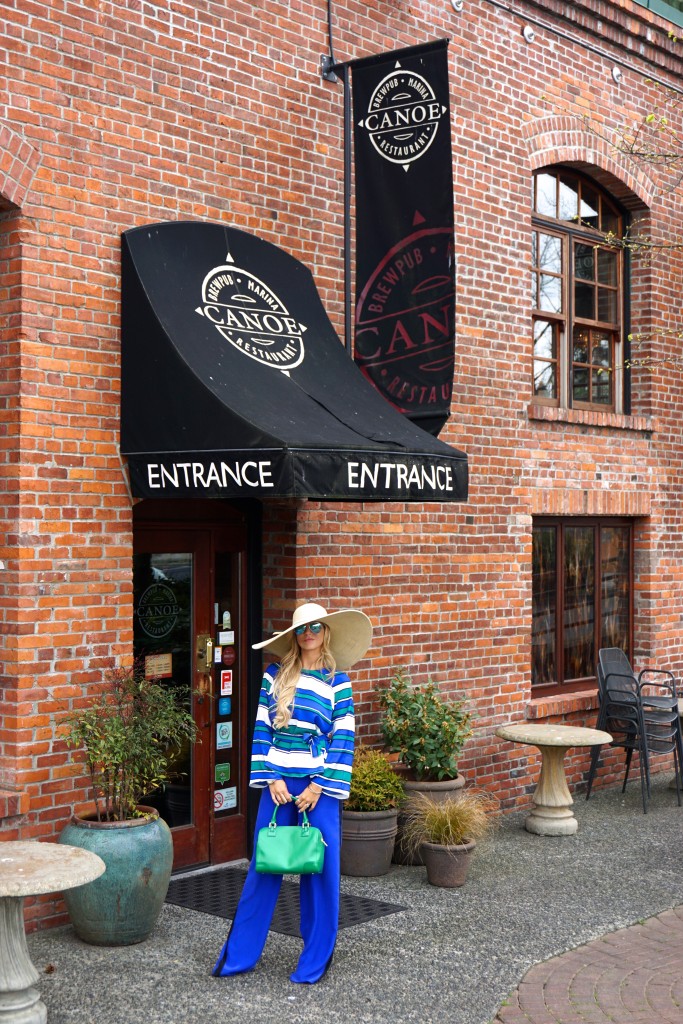 Today my Husband, Chris and I were fortunate enough to have an afternoon alone, aka no kiddo's around to interrupt a thousand times!  Of course we love our turkey trio, however those moments you get when an adult conversation is had, you realize how much you missed it and missed one another.
Today we decided to hunker down where we both describe as "thee place to go for a fabulous out door patio experience". Canoe Brewpub is located at the base of Victoria's historic China town and is known for its delicious handcrafted beer, higher end pub food and live music, which you really must check out, Thursdays, Fridays and Saturdays.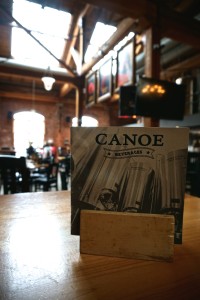 As well as the large outdoor patio which sits proudly along Victoria's inner Harbour, there is a lounge, a family friendly dinning area and a comfortable pub, perfect to catch the game or catch up with friends with a cold one. The diverse mix of people and fun atmosphere makes it a definite "go to" for the work crowd during the day and the bar hoppers warming up for an evening out. I love the combination of natural elements used in its decor, from the heavy timber frame to the warmth of the brick and raw steel accents.  It has a stylish yet cool vibe,  I truly enjoy this place. However just a heads up, you will more than likely have to find somewhere else to park, they state they have parking and yes they do but it is rather small and always full.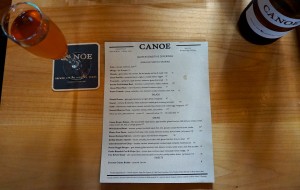 "Oh my goodness they have gluten free options!" 
If you are gluten intolerant like myself you probably always prepare yourself for the fact that you will be munching down on some leafy goodness when you go to the pub or filling your gullit with lots of liquids!  Needless to say I was ecstatic when the lovely waitress handed me a gluten free menu. I must have looked like a kid in a candy shop when she than explained that they have Portofino buns, OMG!  Seriously, how could I resist!  I had to have the grilled chicken "Sarnie".  Stuffed with bacon, avocado, arugula, sage and aioli ….. it was AMAZING!!  I gorged myself but it was well worth it, every yummy, yummy bite.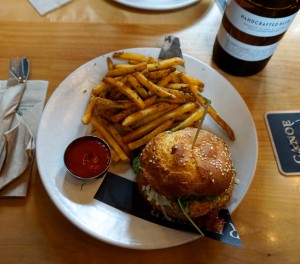 "Grilled Chicken "Sarnie" on a GF free Portofino bun, OMG!"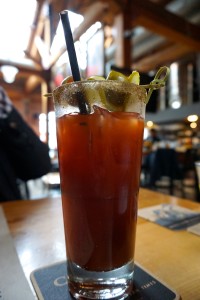 "A Caesar is a must"
 Deciding on an outfit is easy when you are headed to Canoe because everything goes.  I've worn a flirty white dress, jean overalls and and even my work out gear. Today as you can see I opted for boldness with this gorgeous bell sleeved top, gorgeous blue jumpsuit, with a dash off huge hat.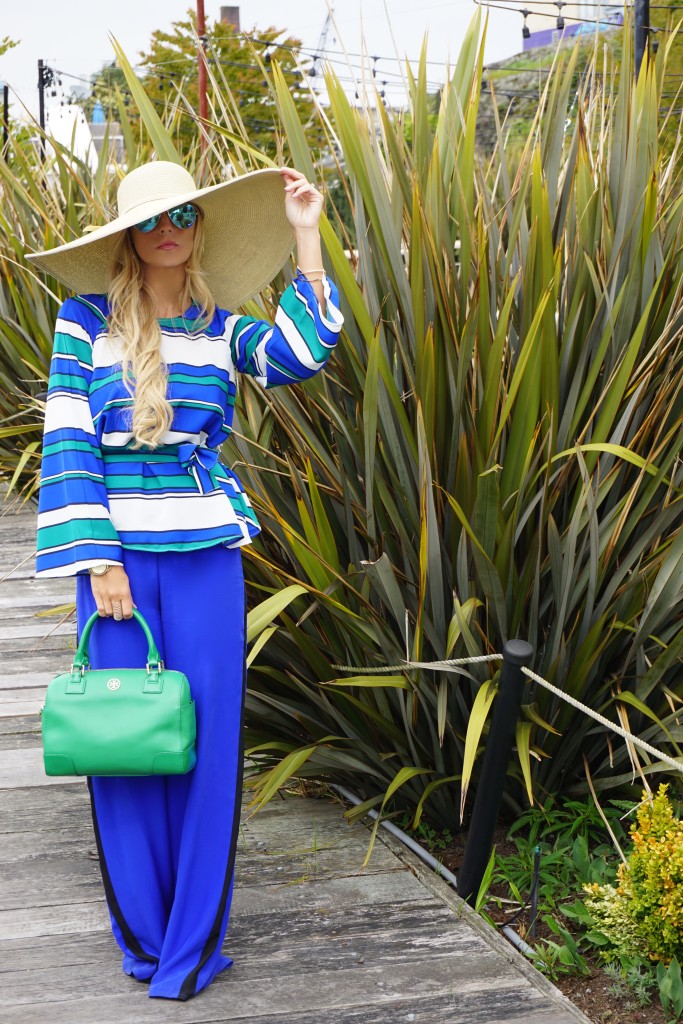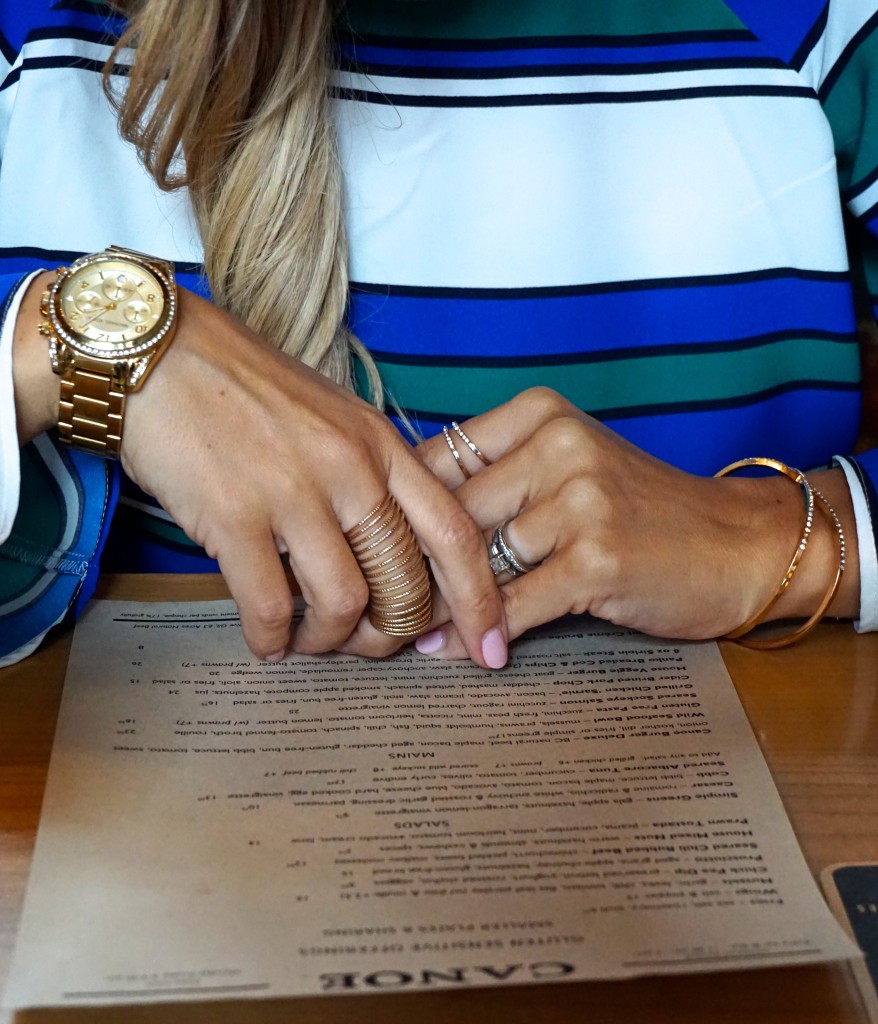 I prefer simplicity when I accessorize, it may be from my days off doing hair, but I love delicate jewelry, so feminine and to be honest doesn't drive me nuts.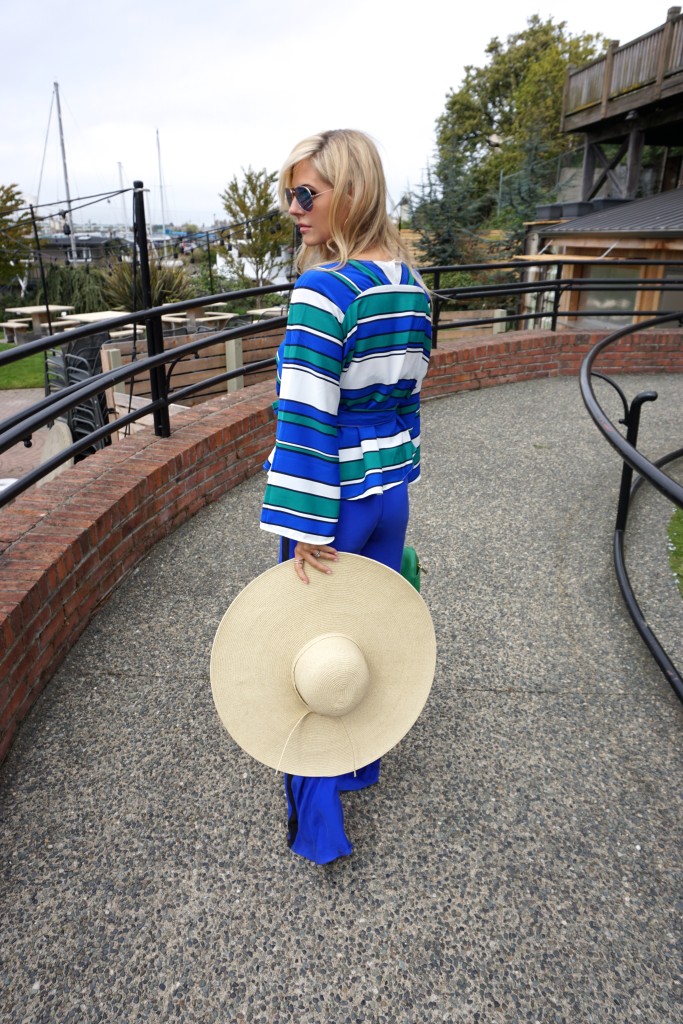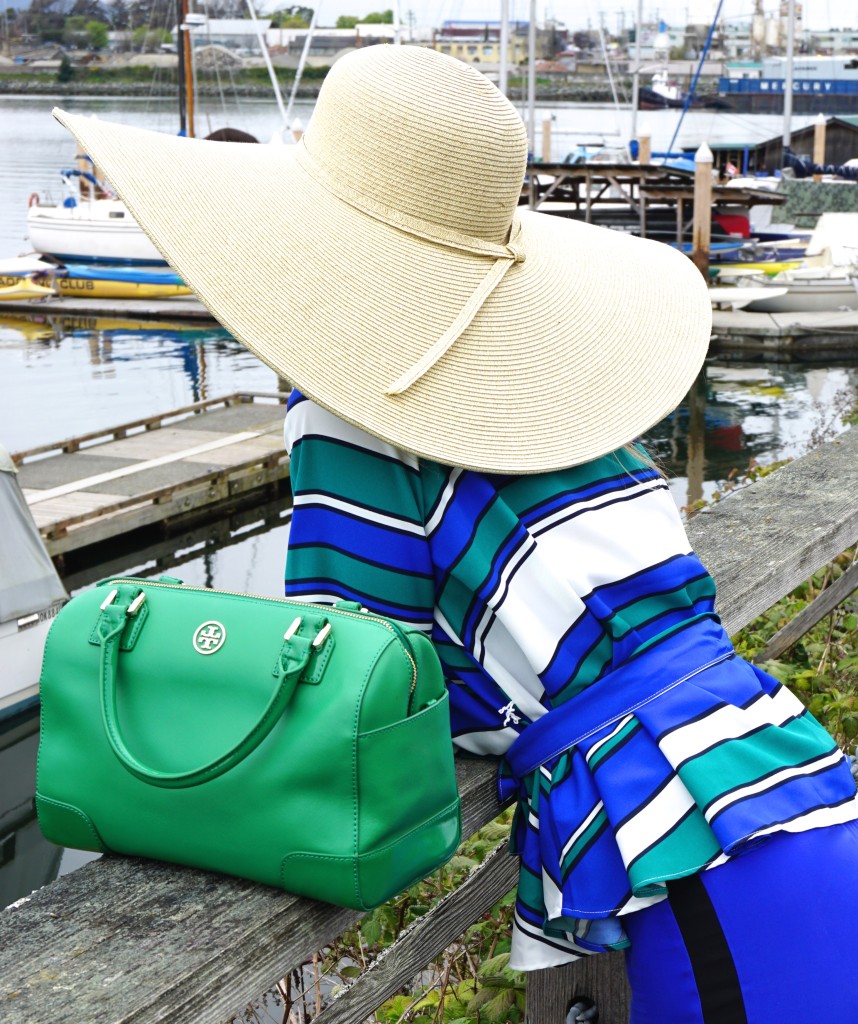 Bigger the hat the better, I wish more people wore hats, they certainly can top off any outfit, excuse the pun. This stunner is from San Diego Hat Co. and is the largest hat I own, it really does make you hold your head high.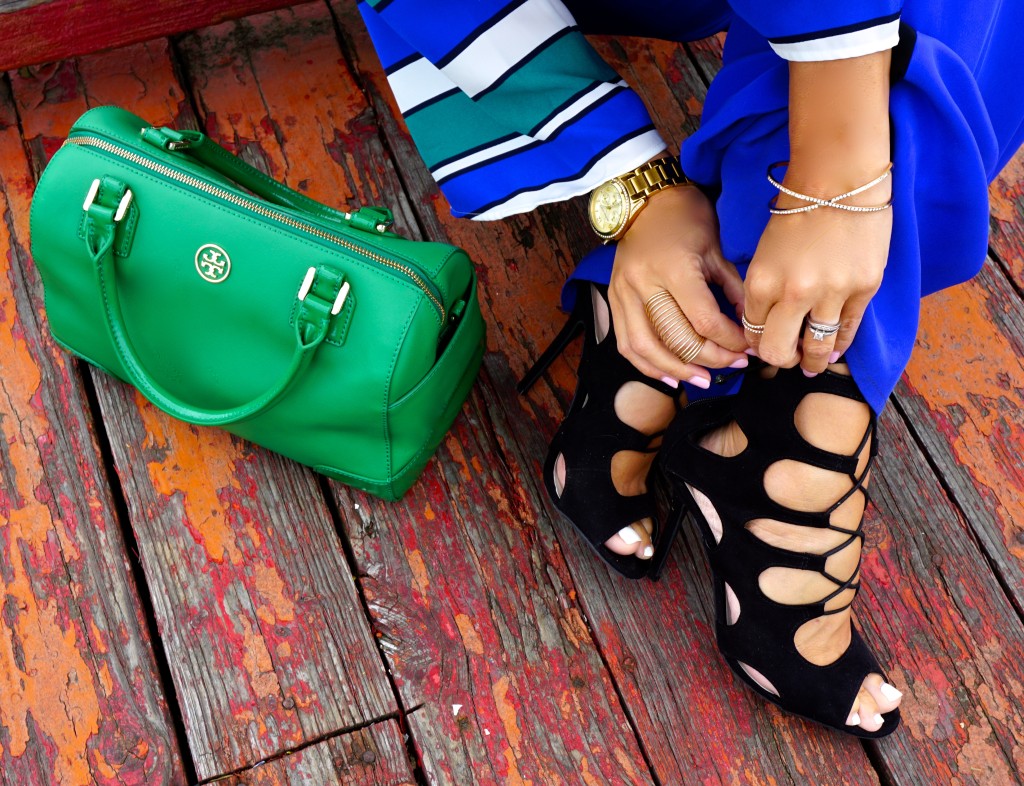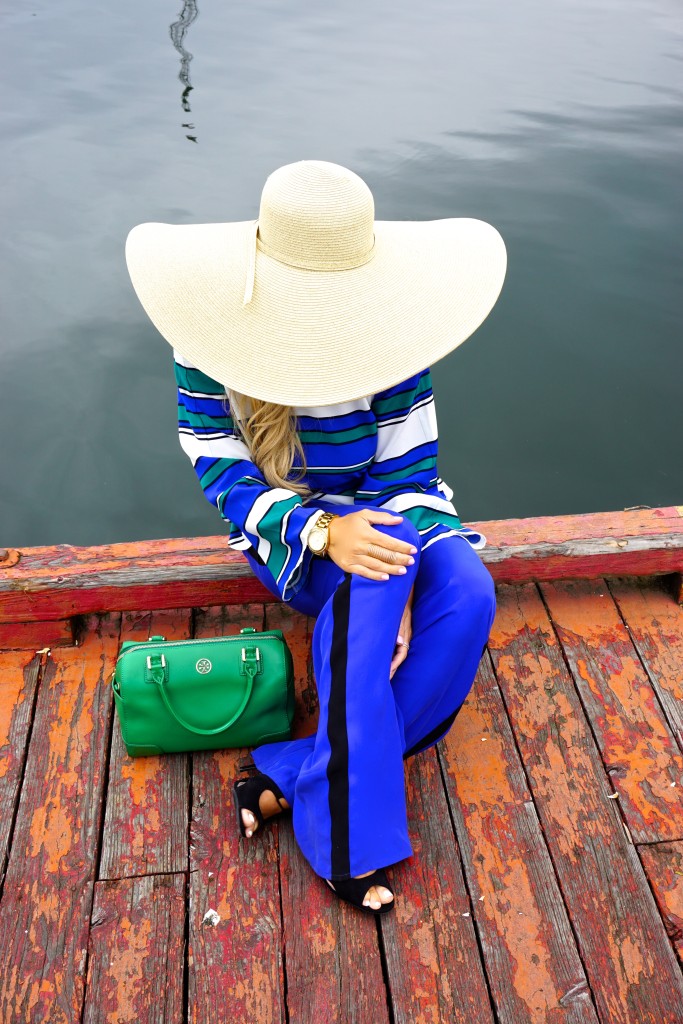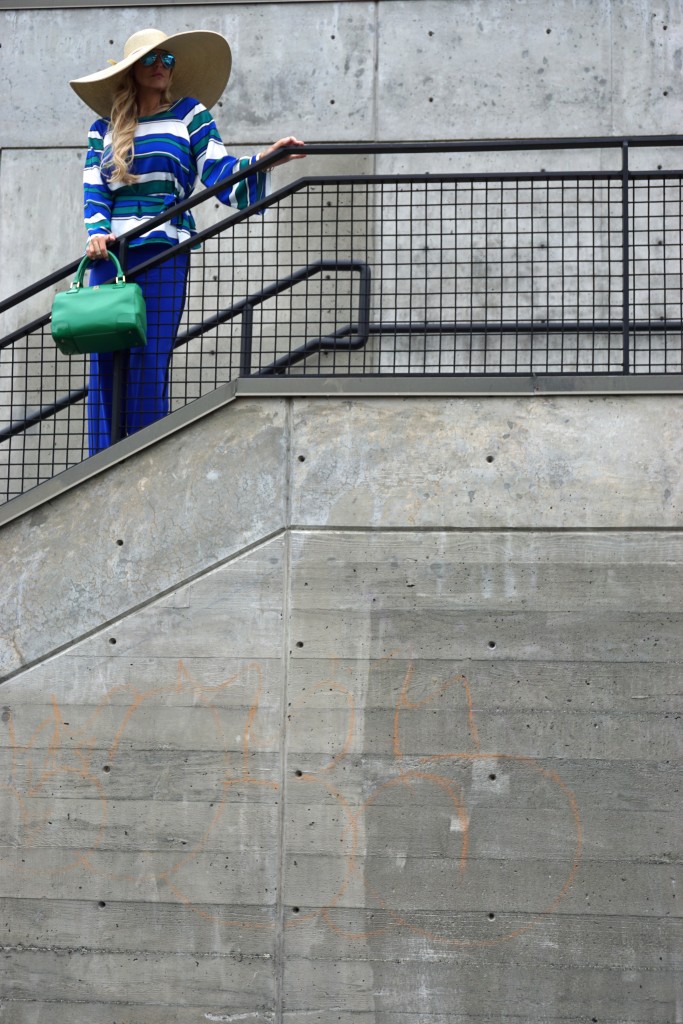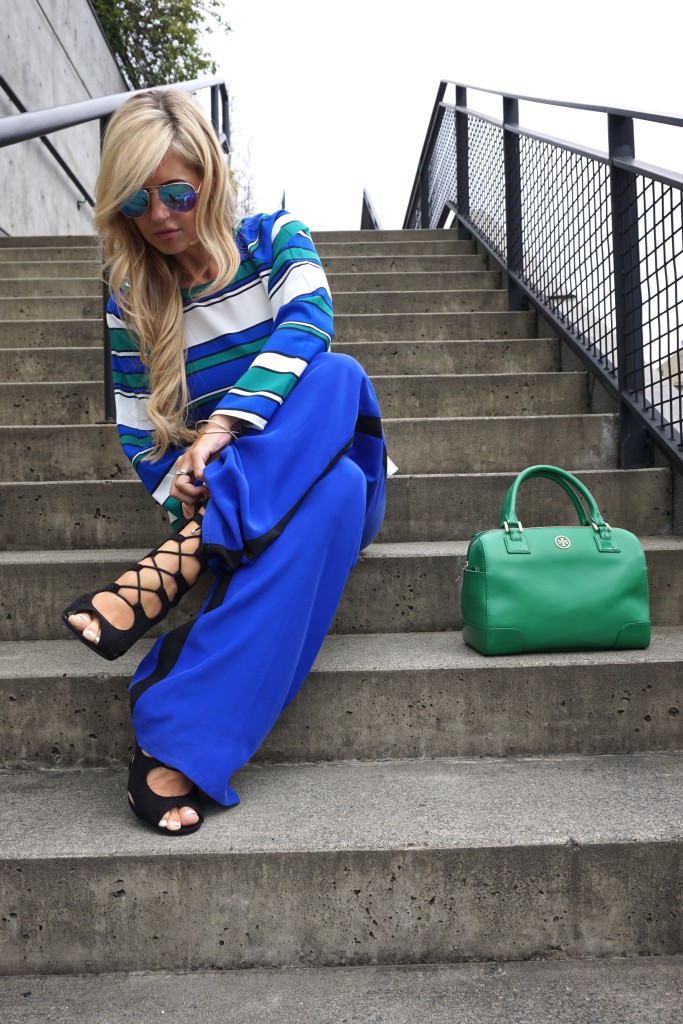 "I'm a sucker for strappy heels"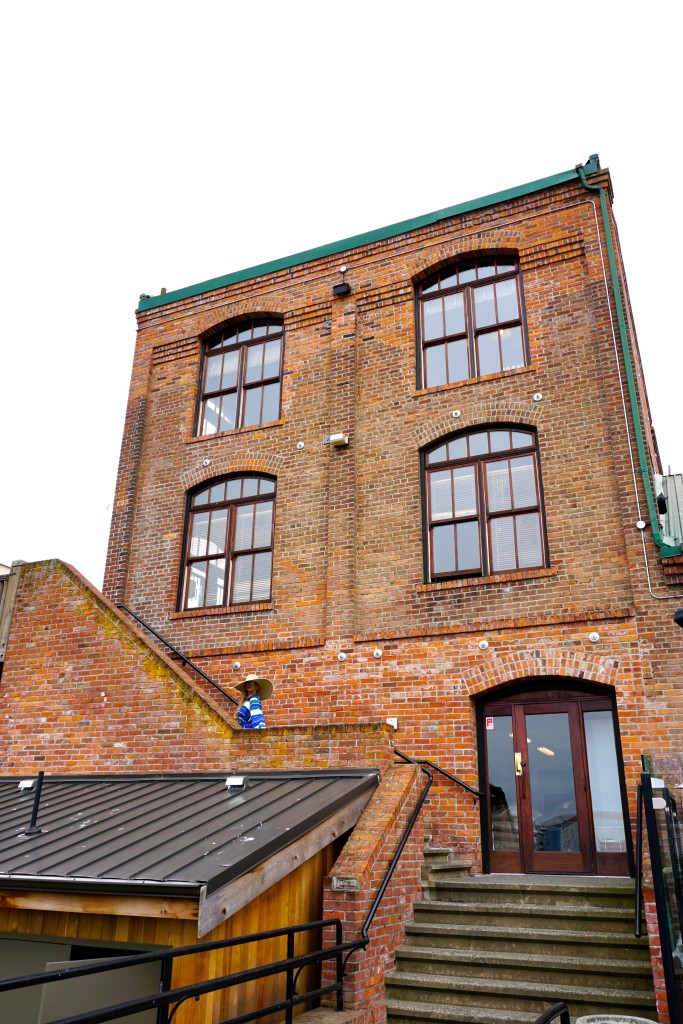 As you can see it was a pretty good hubby date with my hubba hubby husband, when you are married it is just as important to find those moments together to reconnect now and again because in the daily grind of perpetual ground hog day you can easily forget who stands strong beside you day and day out.
Top:H&M
Jumpsuit:ALEXIS
Hat:San Diego Hat Co
Bag:Tory Burch Robnison Middy Satchel
Shoes: Windsor Clothing
Sunglasses:Rayban flashlense aviators
Watch:Michael Kors
Jewelry: H&M