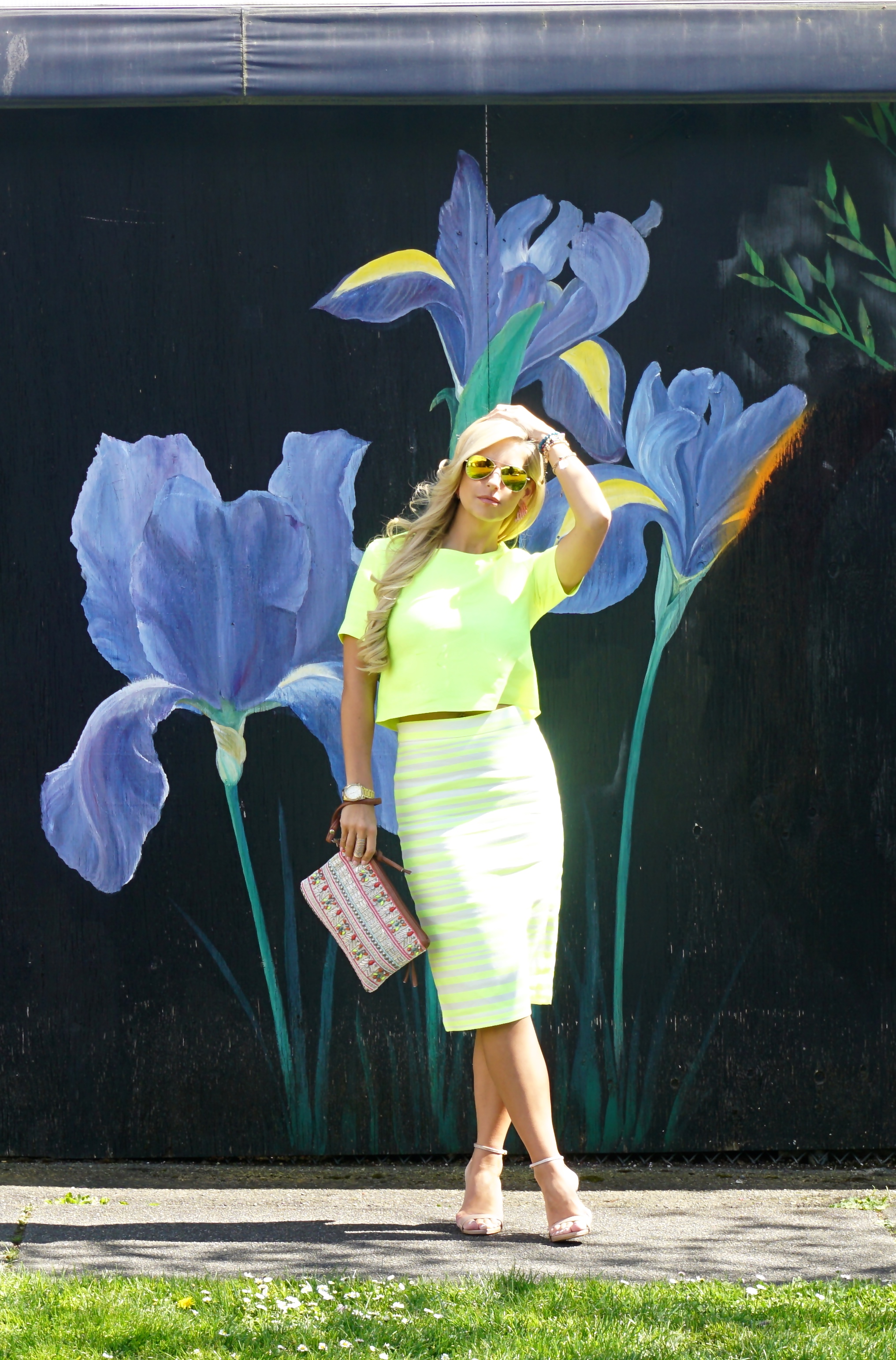 If you live on Vancouver Island you know what I am talking about when I say the weather can be bipolar and have a a tendency to tease you. Warmth and sunshine one moment, than without warning the ocean blows a cold gust over the Island and the patter of rain causes you to look like a drowned rat. Today the glorious sunshine decided to make a very welcome appearance and surprise, it lasted all day!
With the sun kissing my face what better way than to dress head to toe in the brightest, happiest colour I own. When I saw this amazing outfit online I ordered it right away but to be perfectly honest it took a bit of guts to wear it out, I was so happy I did though! It turned out to be a show stopper, I think my cheeks must have been a pink hue most of the day and not from the sun, a perfect example of why you should push yourself.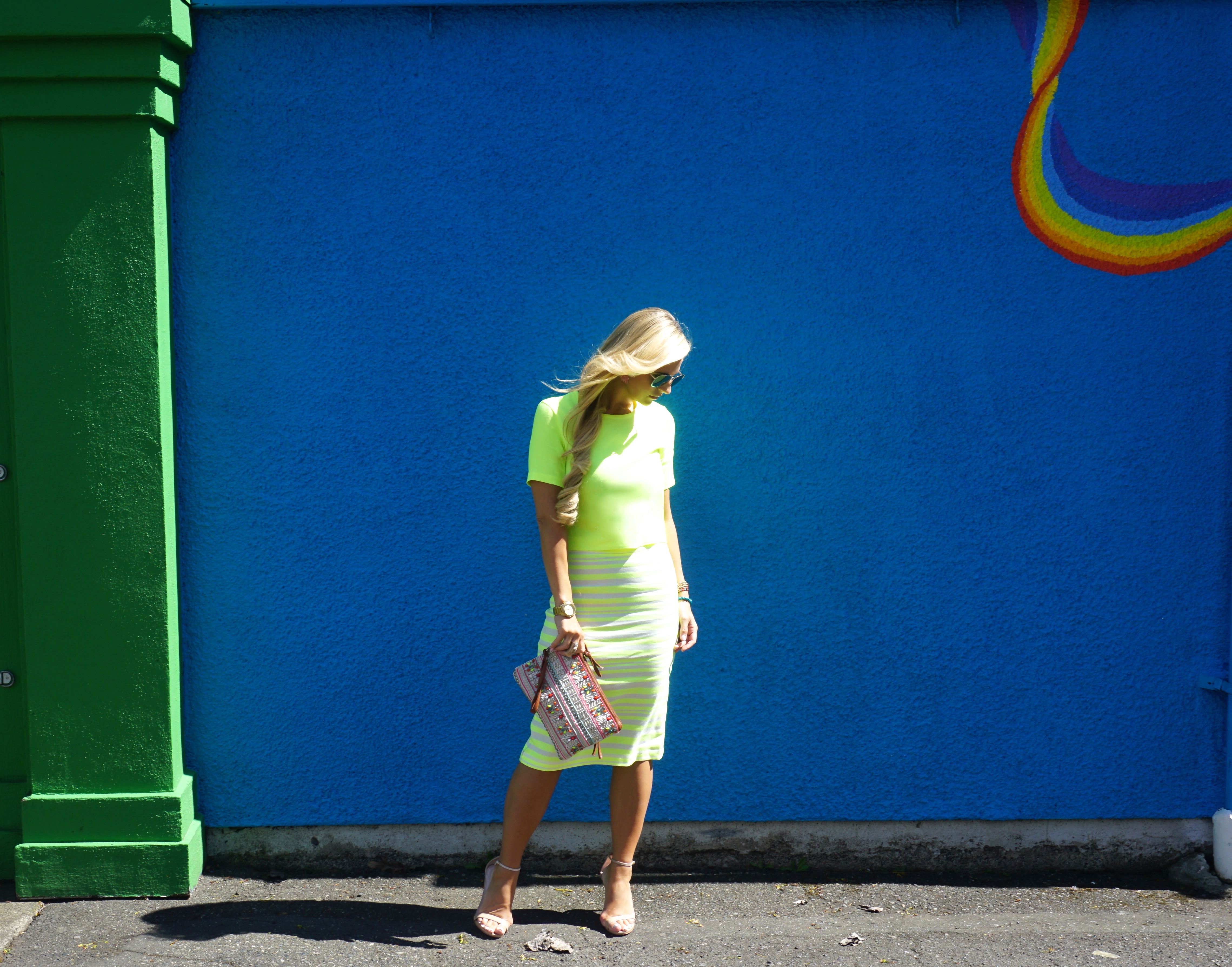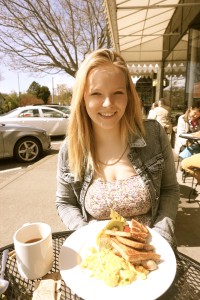 I don't think we need an excuse to dress up and put those heels on however if you do need a reason and I do sometimes, a very good one would be a scrumptious meal. Today my incredible, beautiful and caring nanny was my lunch date and fabulous photographer. It was her morning off but this lovely lady decided to spend it with me, thank you Nicole Hughes.
The Village Restaurant, Estevan, Oak Bay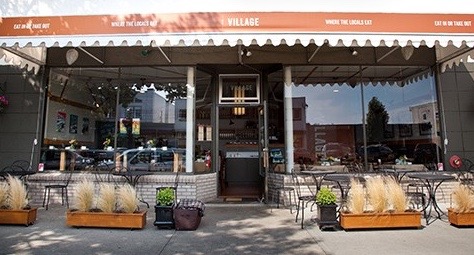 Due to our tight kid free time frame we opted to go to my favorite local huant, The Village Restaurant in Estevan Village. My husband and I being so incredibly lucky,  live only a few blocks away and take every chance we can to pull up a pew and mow down. From the creative array of eggs benni options placed delicately on there signature house made gluten free latkes (yes, here is the GF plug options, yay!), to there thick fluffy french toast on Challah bread, you really cannot go wrong.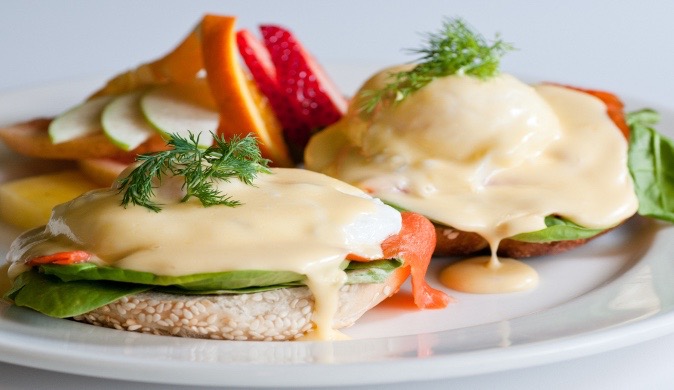 "You really cannot go wrong"

"Pull up a pew and mow down, you will enjoy it, I promise."
I have always found the staff to be warm and helpful even when it is busy and they are squishing themselves between the cozy tables to help you. It can be busy at any given time so be prepared to wonder around a wee bit. If this is the case be sure to head over to Citizen Clothing, being my husbands favorite store he doesn't complain if we have an excuse to pop our heads in and say hi to the amazing owner, Patrick! If you don't want to be tempted the fabulous cloths meander down to the oceans edge of Willows beach and burn off some extra calories you will be popping in when you eat. If you are worried about loosing a spot don't be, they will text you once a spot opens up.
You are my Sunshine kinda day!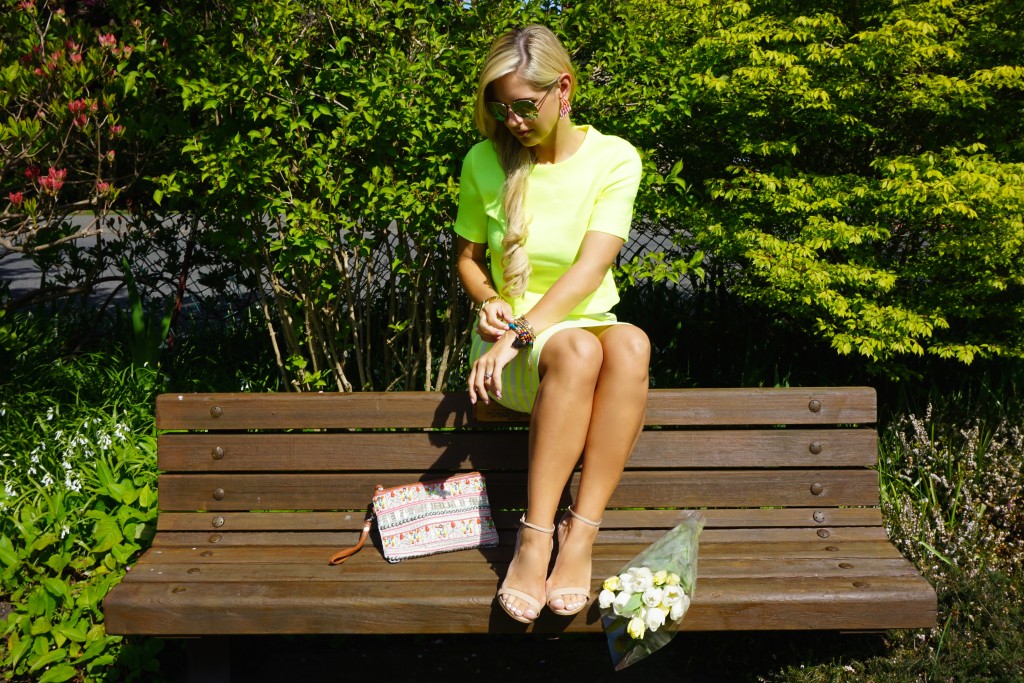 "If you are taking pictures in a park, don't wear stilettos, I aerated the whole park!"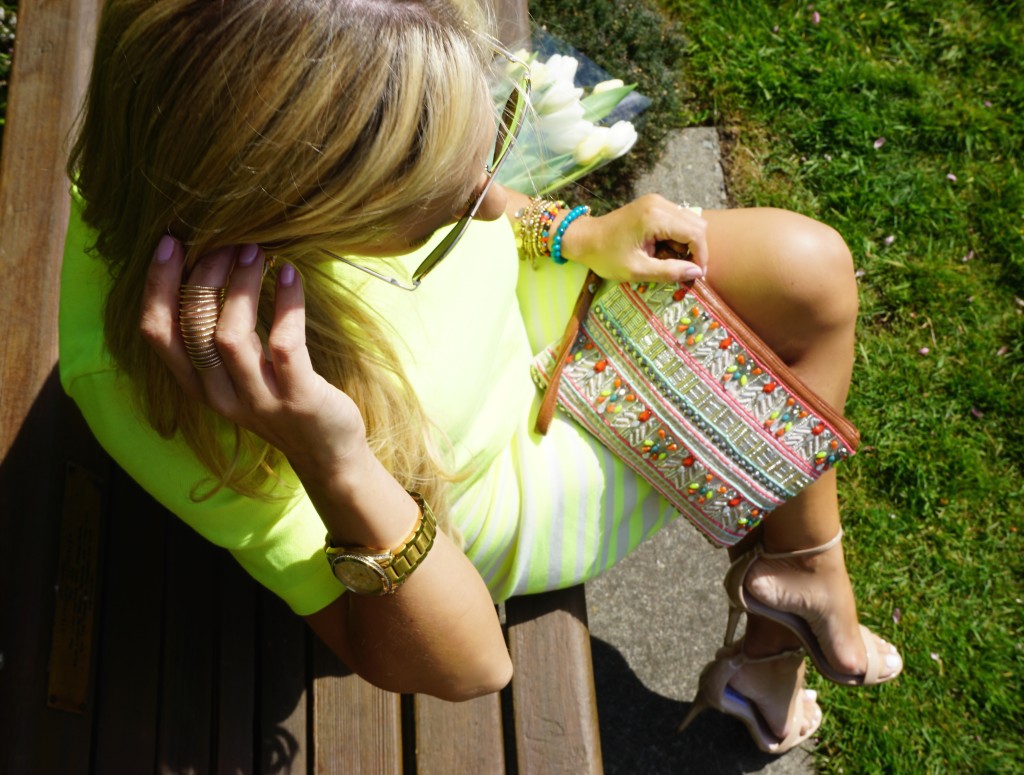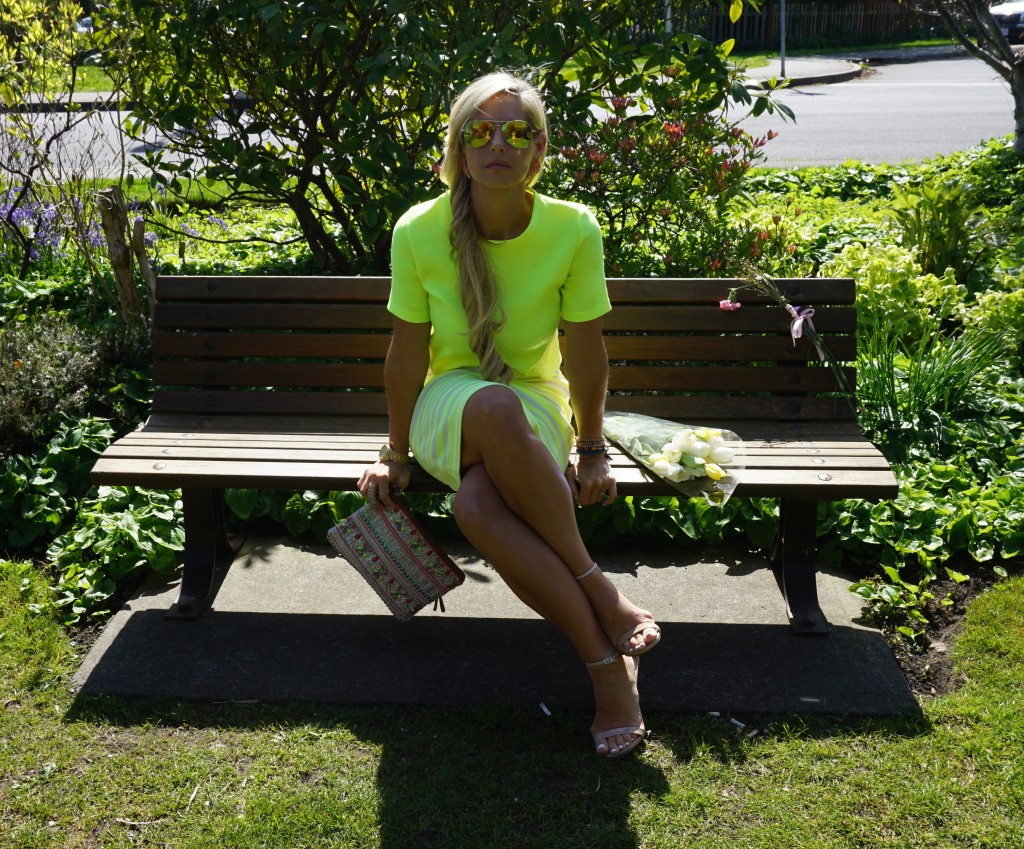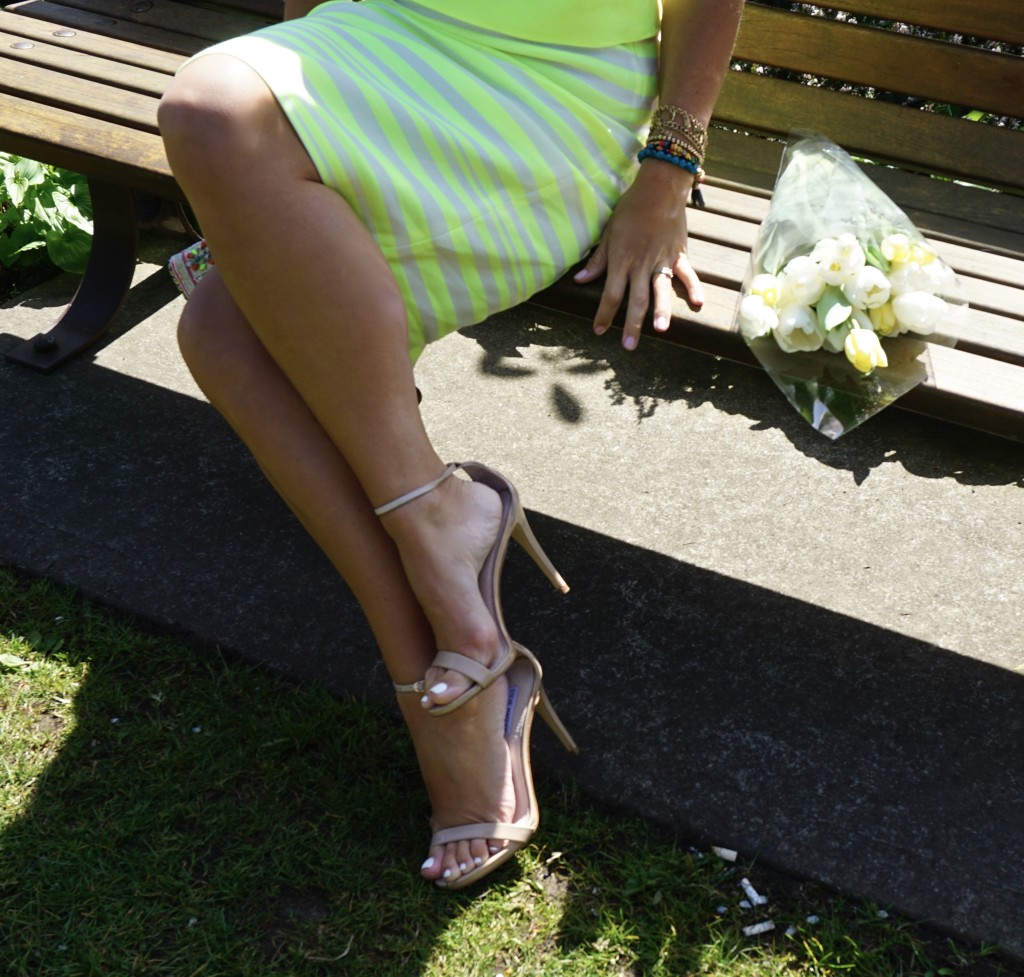 I opted to wear nude open toe heels today but if you are looking to tone down a bright colour the addition off black and white can help mute things a wee bit. A black and white stripped hat and black and white polka dot pumps would look fabulous as well.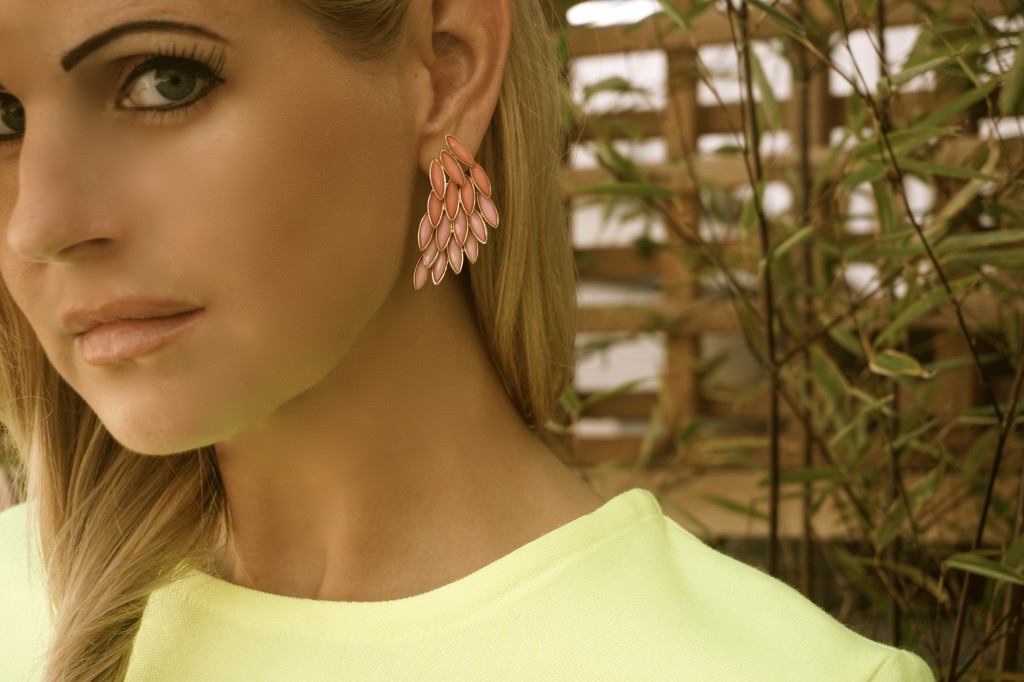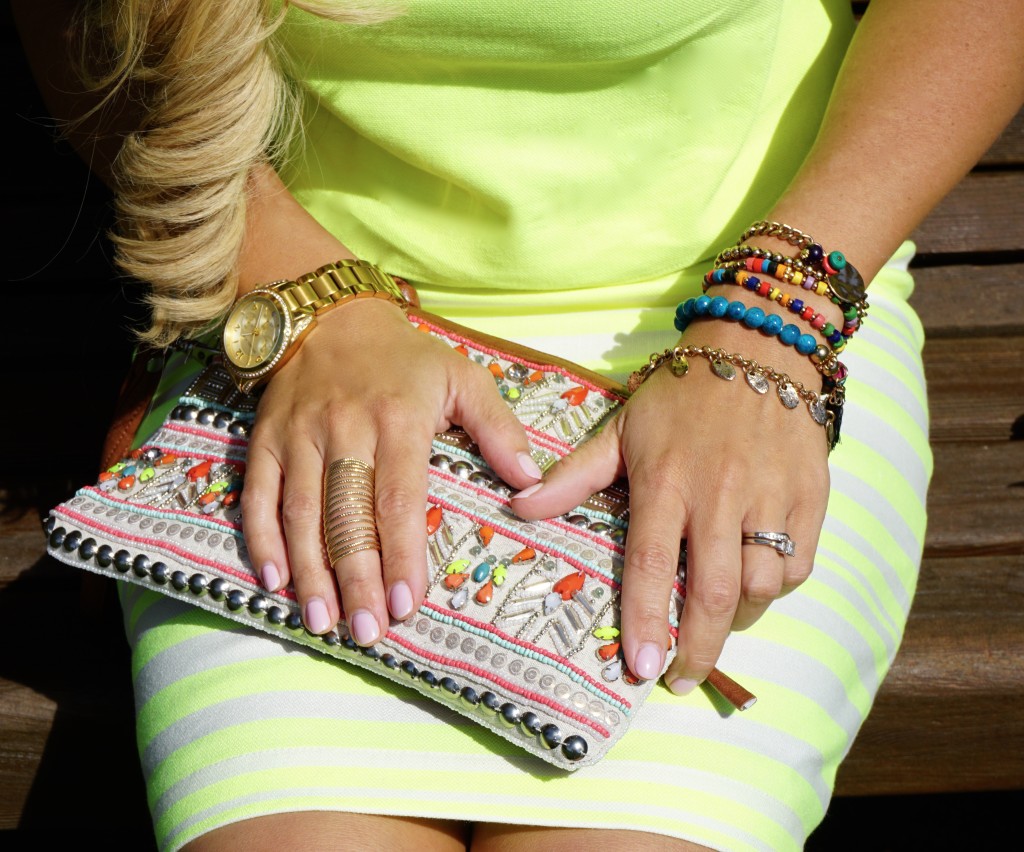 So many things to be grateful for today, the amazing company, the gorgeous weather, the scrumptious food and of course my neon ensemble.
Heels: Stecy Patent leather sandal by Steve Madden from Hudson Bay
Purse: Aldo's
Earrings: Forever 21 (in stores only)
Sunglasses: Ray Ban
Bracelet stack: Aldo's
Watch: Michael Kors
Neon outfit: ALEXIS clothing.