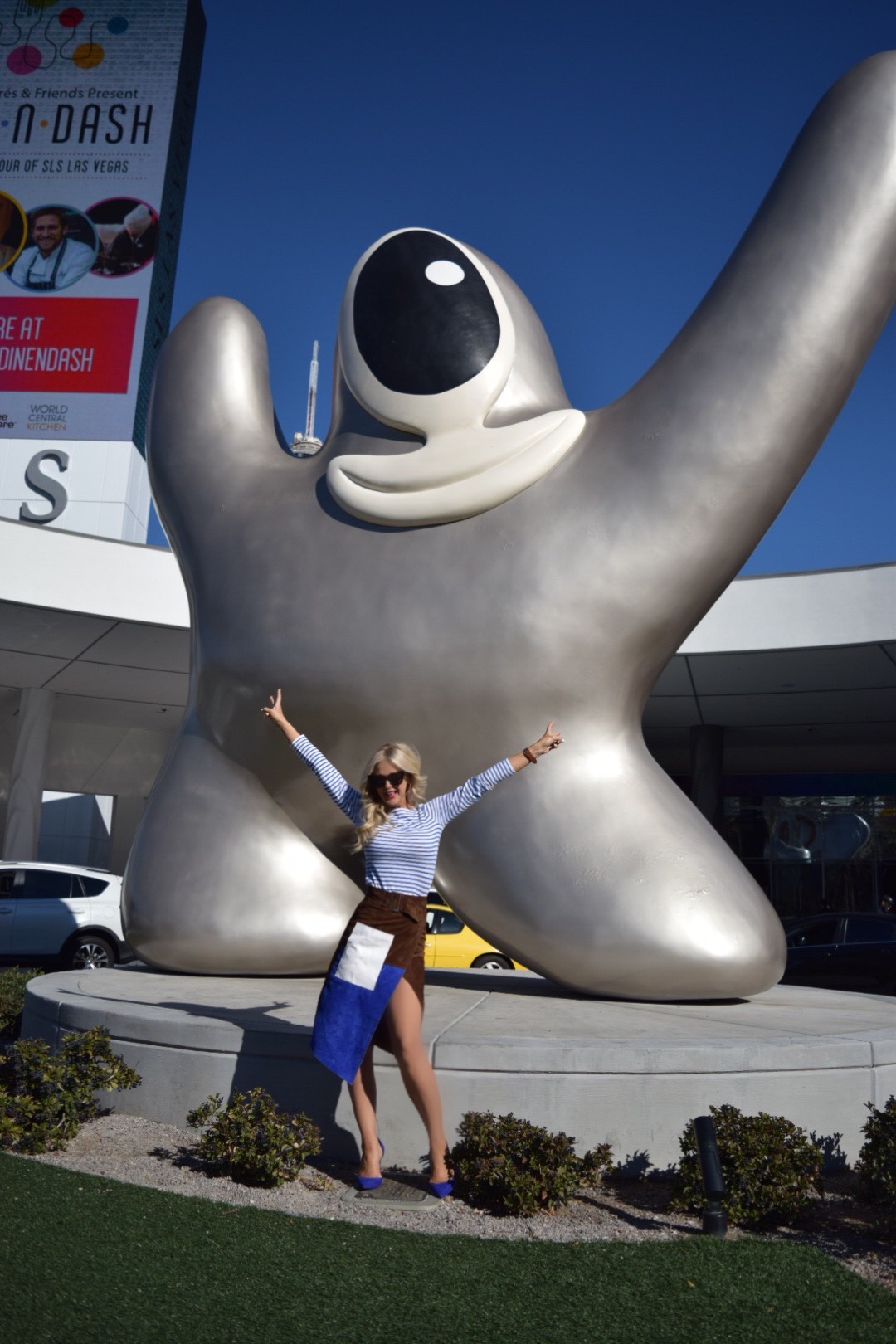 Viva Las Vegas baby! This was our 5th annual Las Vegas trip in January and we are always so happy to see the sun. Why do we go in January? My husband attends a conference every year and I am fortunate enough to tag along. The weather in January is not particularly warm, usually around 12 degrees Celsius, 53 degrees Fahrenheit, however, the sun is always shining.
This year we stayed further down the strip, at SLS Las Vegas Hotel and Casino. In years past we have played amongst the craziness, at either The Aria Resort and Casino or The Cosmopolitan . Both are amazing and a ton of fun, but, can get a little overwhelming, especially if you are there more than 3 days. After a fabulous stay at the SLS Hotel and Casino, I would highly recommend it to anyone.
Now, this fabulous skirt, how perfect is it! I have to admit, I first saw it on instagram and fell in love immediately. I am a big believer in pushing the limits with fashion and I always find myself attracted to contrasting elements, whether is be with colors, fabrics or accessories.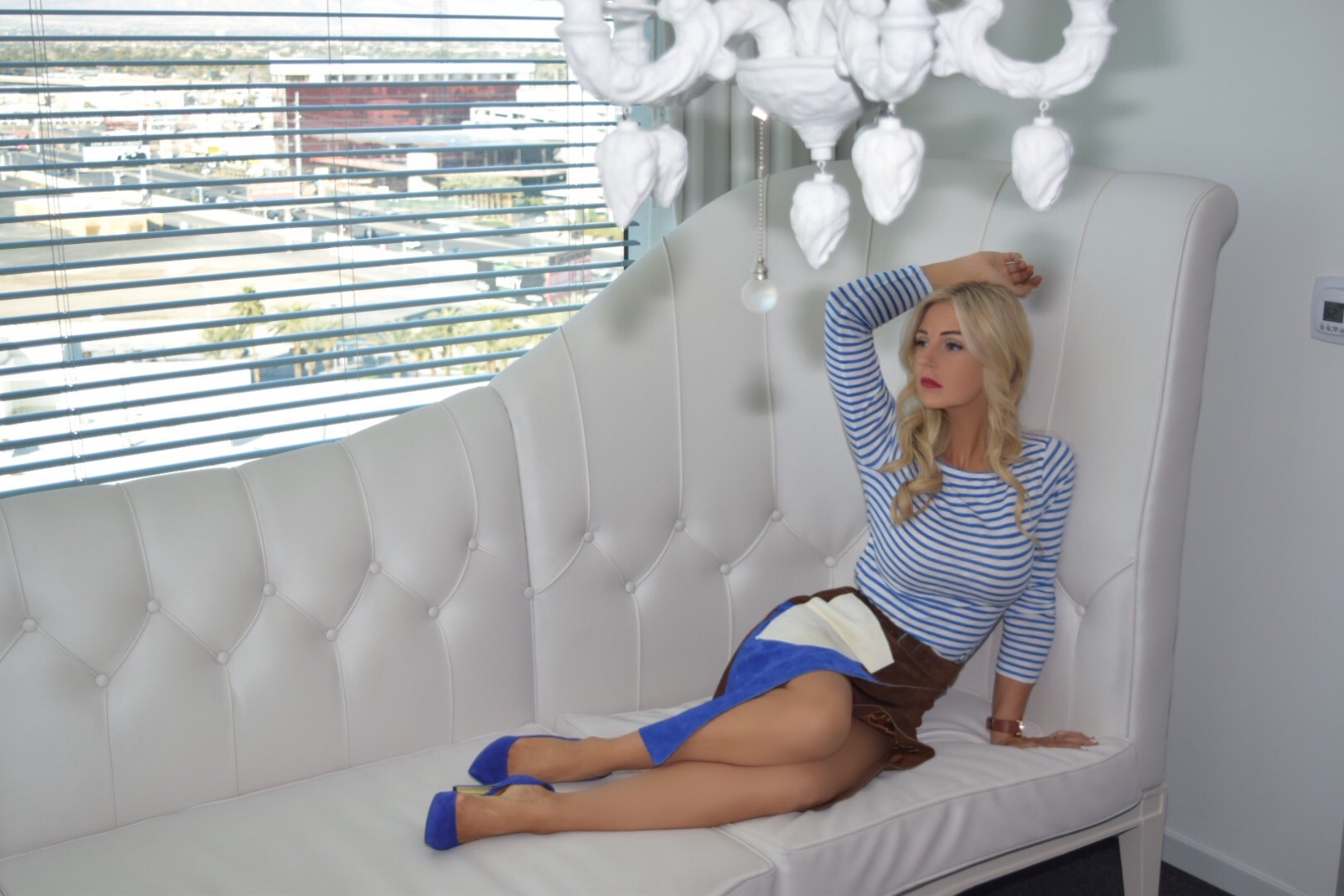 This skirt is from one of my favourite online stores, ASOS. Made of mid-weight suede, with a satin lining and 100% real leather details. The slim fit, high waisted, pencil skirt, hugs your curves deliciously. The wrap front is fastened with strong press-studs and won't pop open if you eat a wee bit to much. First thing that caught my eye was the rich color block detail and wide removable belt. I found it fit true to size, however, if do not want to show as much thigh, I would recommend ordering one size up, so it wraps around you a bit closer. I am 5'7 and measure 26 inches around the waist, I ordered a UK 10, which translates to a 6 US.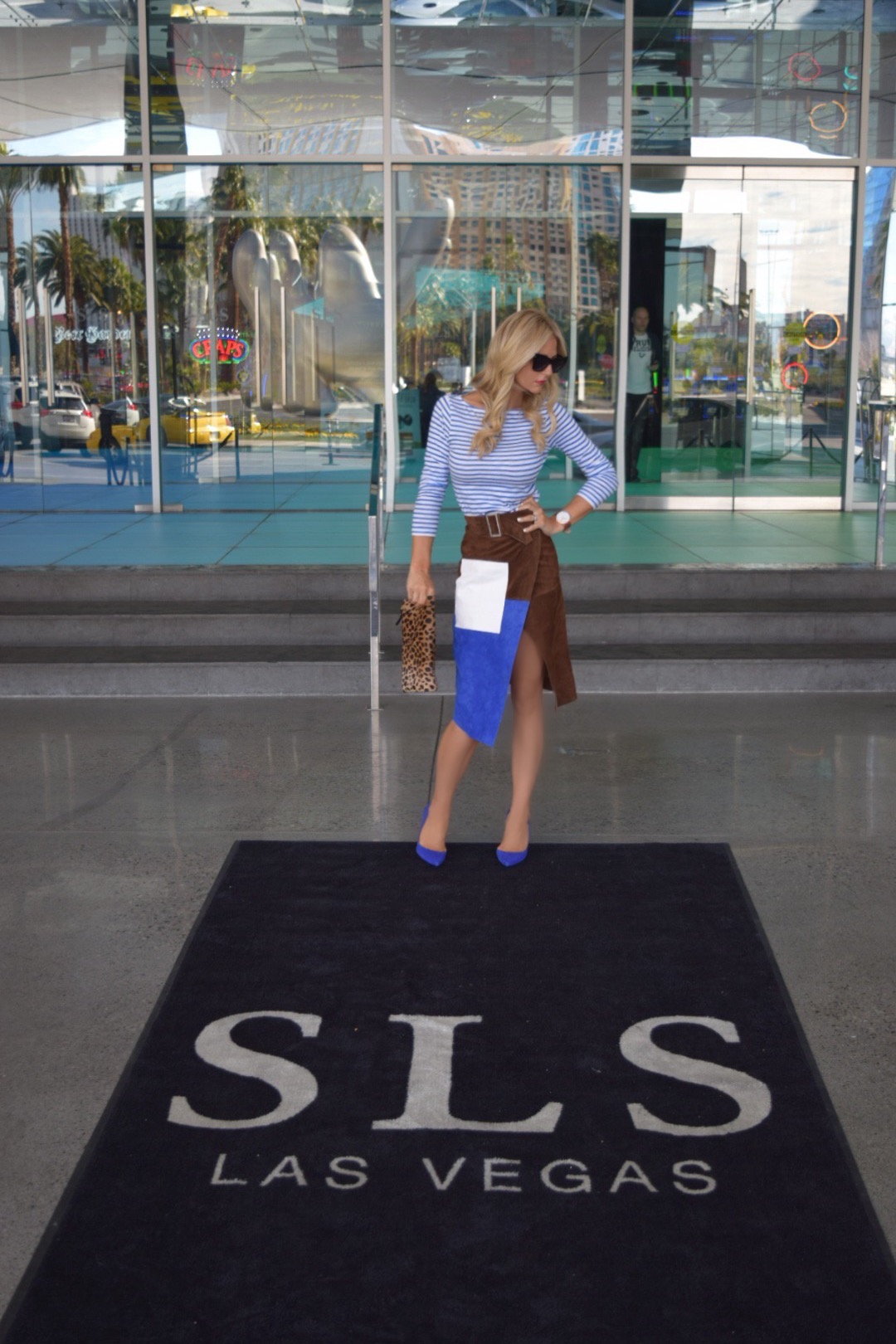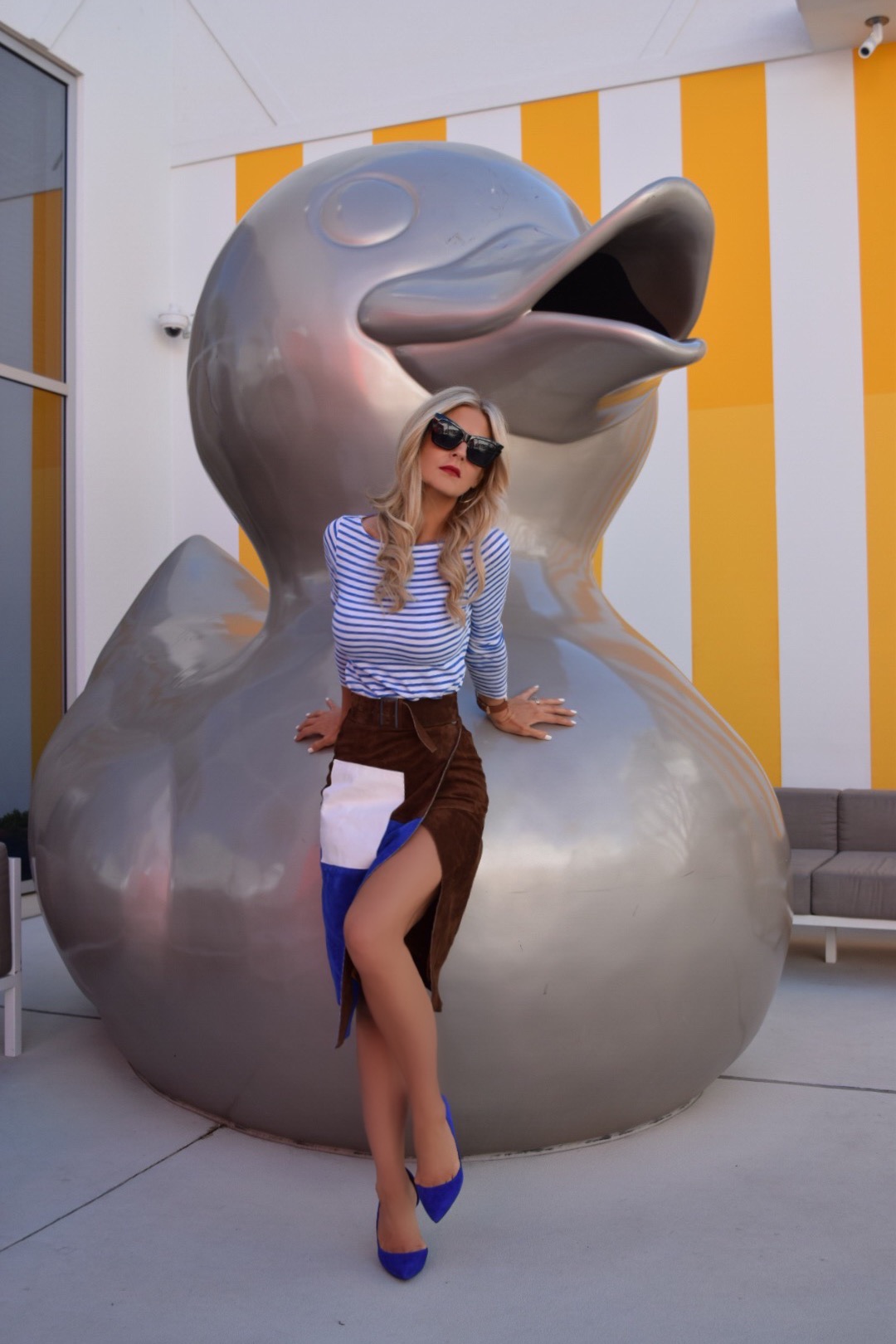 I opted to match a pair of suede pumps and stripped top, with the pop of rich blue seen in the skirt. However, you could easily slip on a pair of white Converse Chuck Taylor runners and white cap sleeve top and you have completely transformed your look. I adore the nautical feel of a blue and white striped top, this particular t-shirt is from J.CREW and is incredibly soft. The boat neck is slightly wider than your regular crew neck and provides a peak of your collar bone. It is made from cotton and machine washable, yay! The slim fit sleeves and split hem are just a bonus. I am wearing a small, as I wanted a tighter fit, you could however, size up, for a more relaxed look.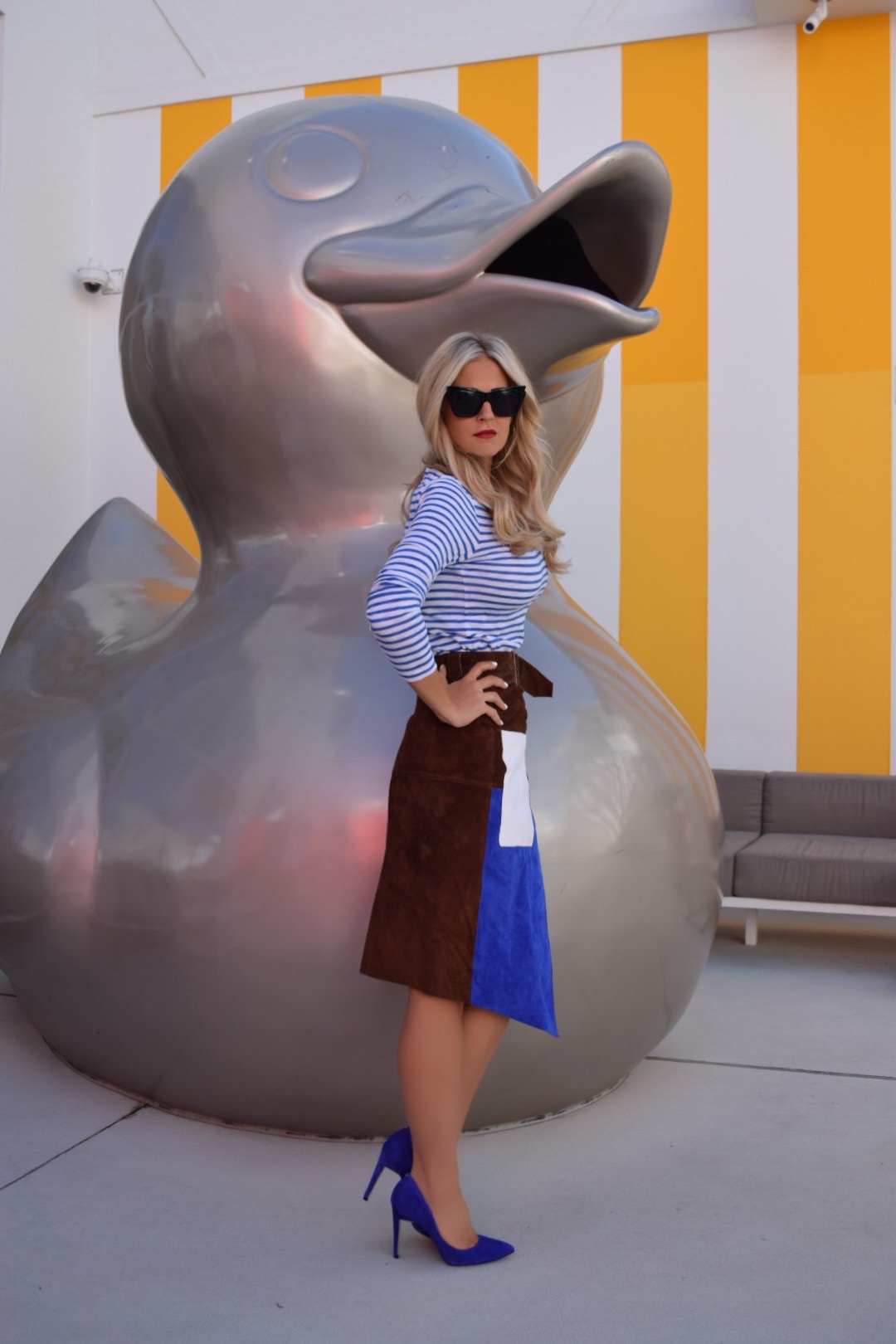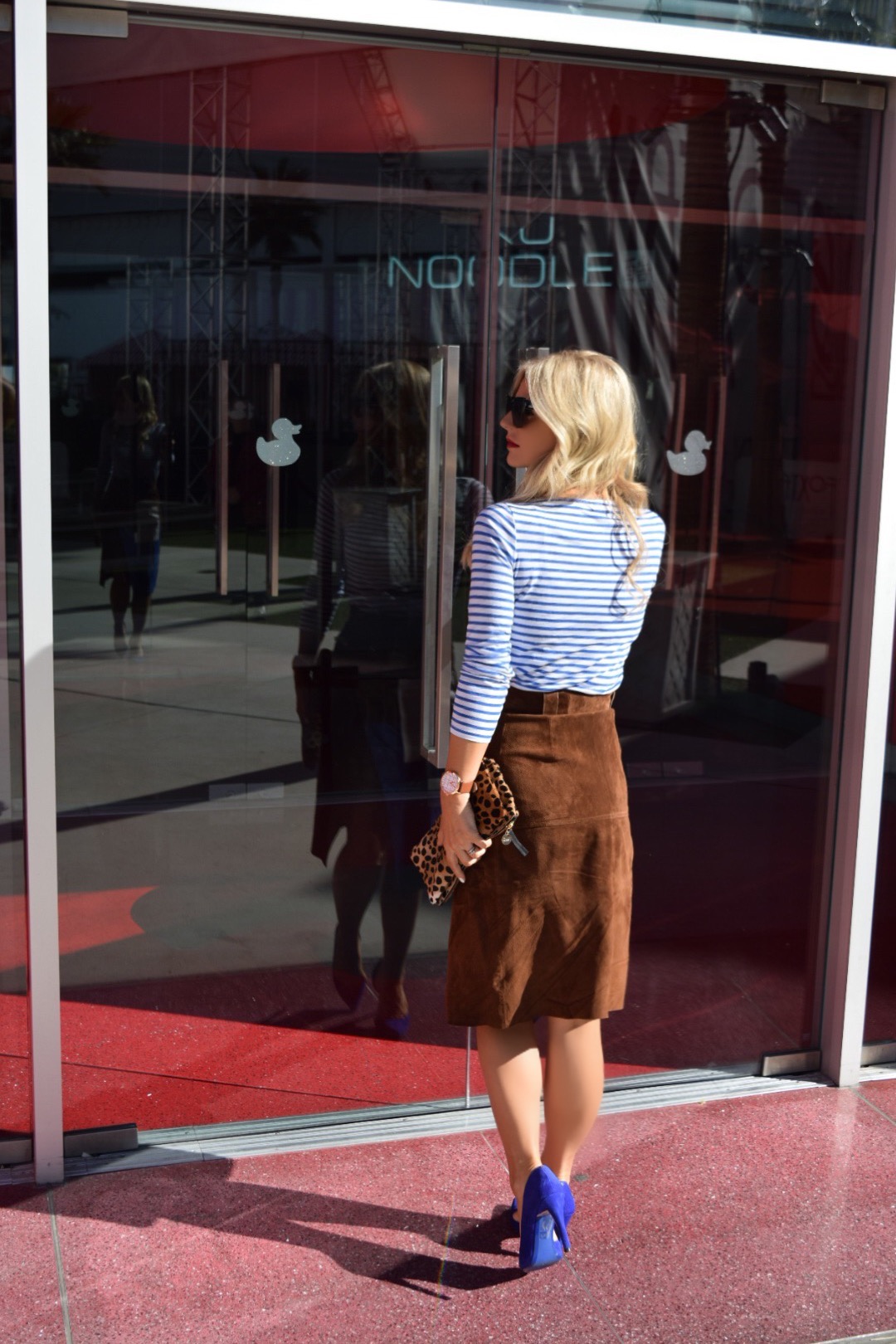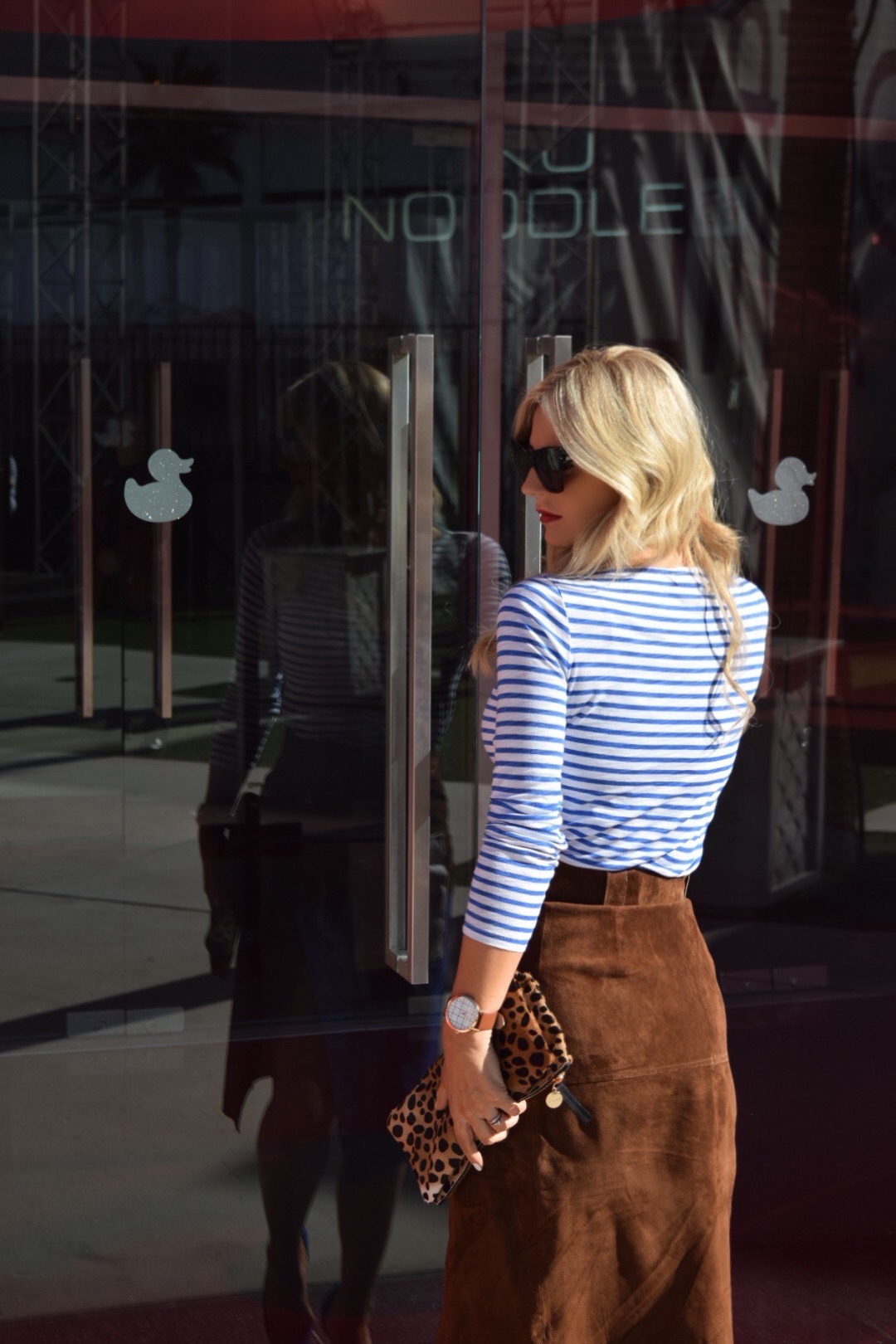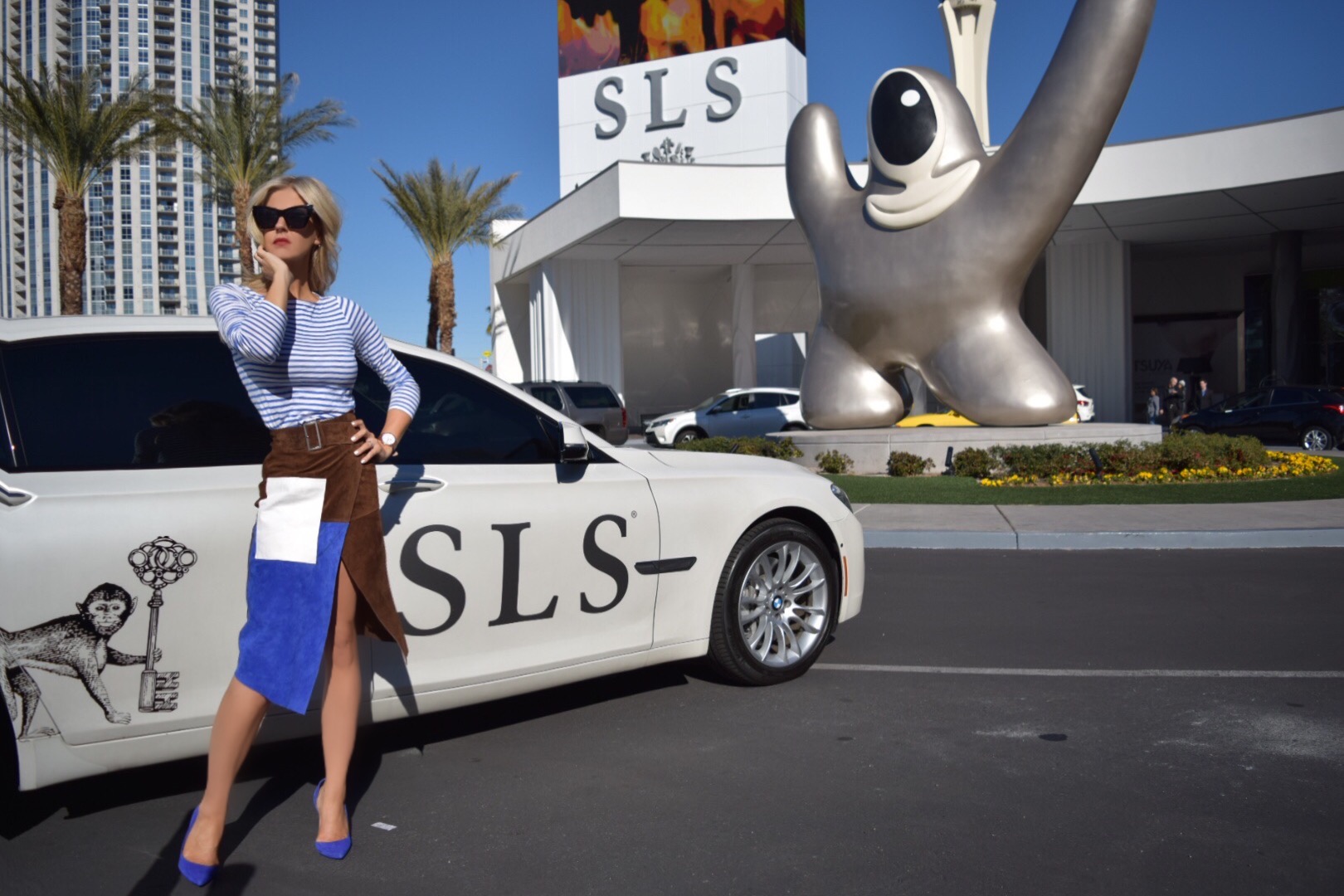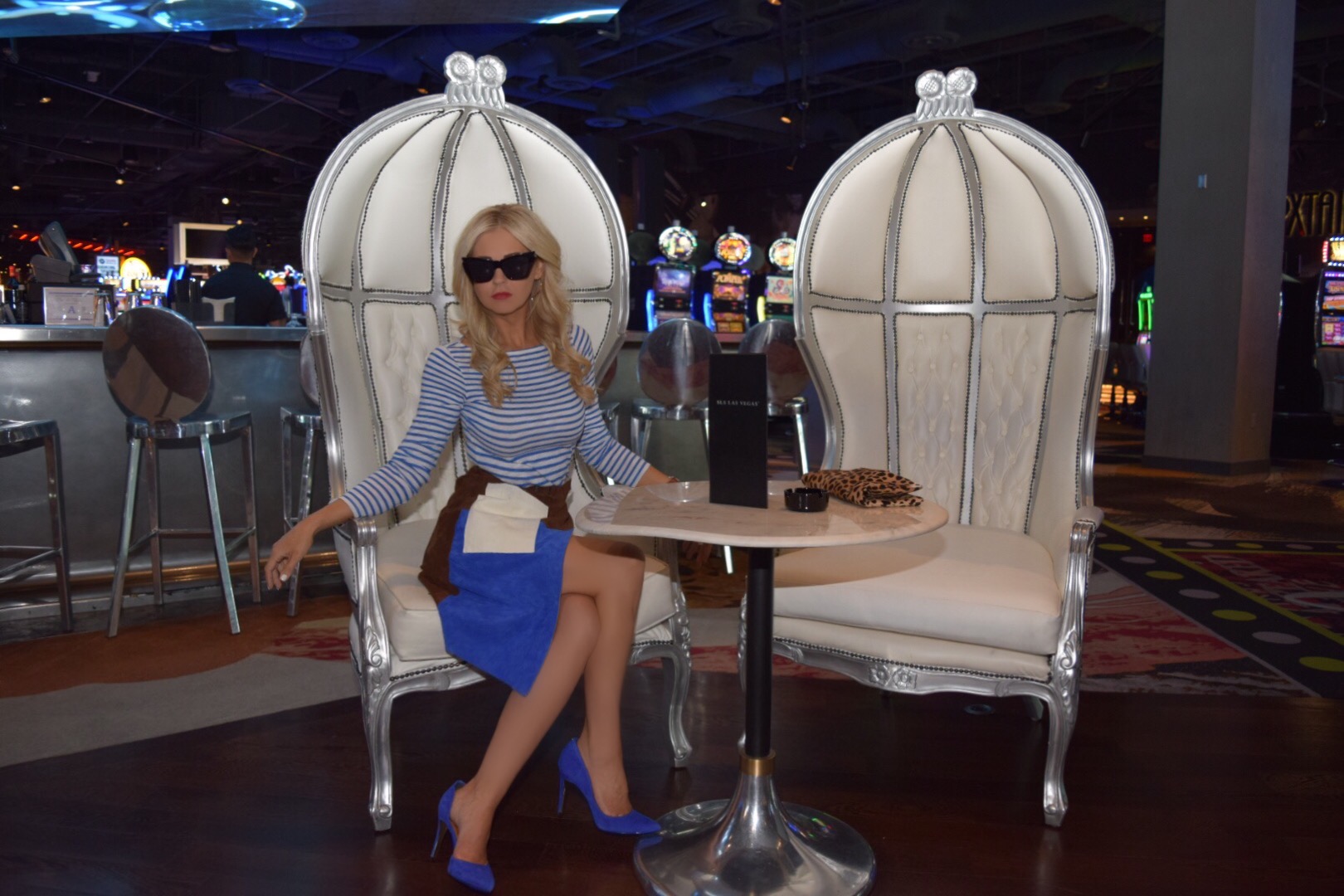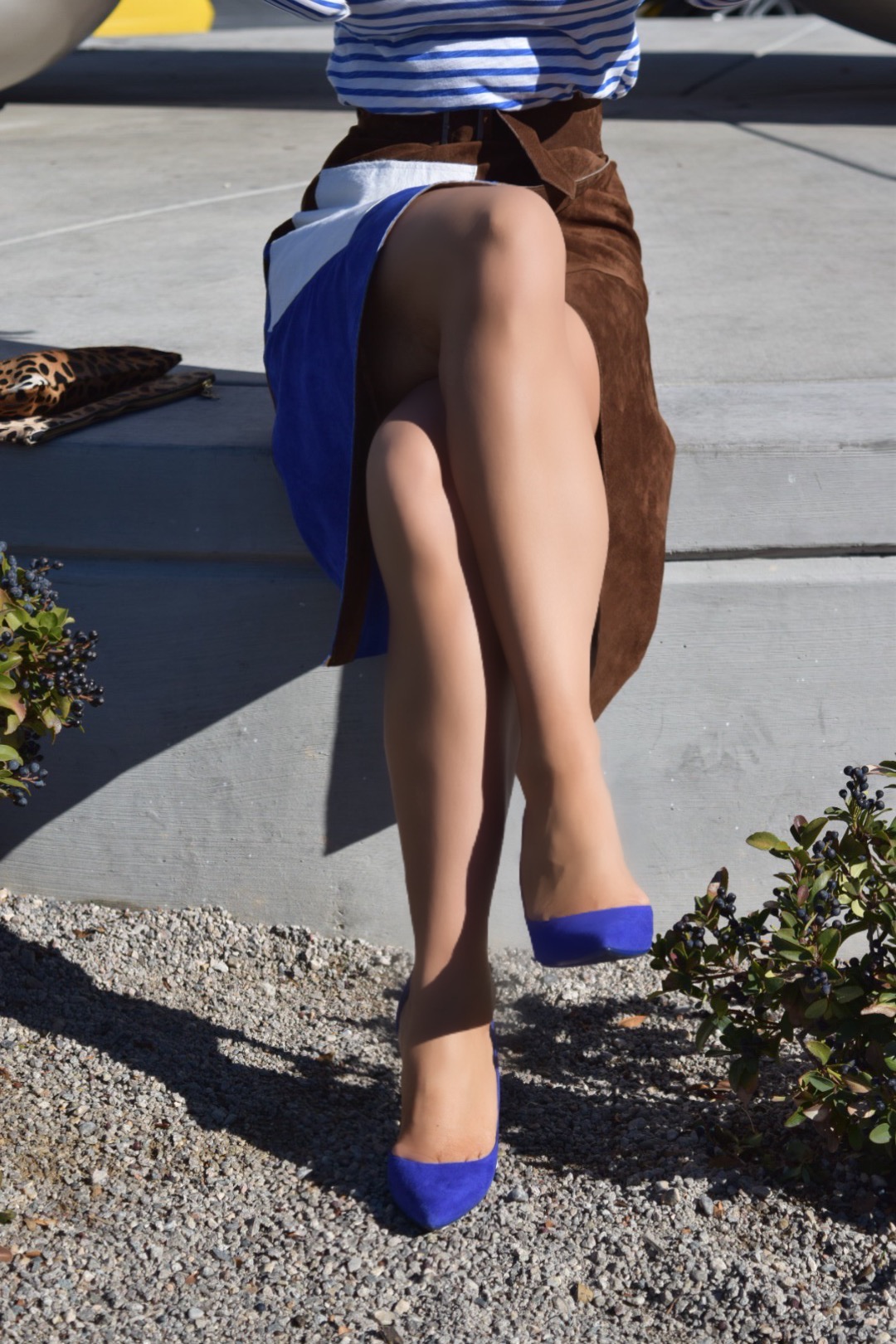 These suede blue Dorsay pumps are by Ted Baker and my new favourites. If you are a little afraid of bright colors and are not quite sure how to add them to your wardrobe, try adding a pop of color with your accessories.
As far a comfort, I would recommend walking around your house a bit first in these. The suede will soften and mold to your foot. Making them more and more comfortable with each wear.
I am a sucker for a Dorsay pump,  the cut-out sides show off the arch of your foot, adding a little more sex appeal. Ted Baker shoes are a brand I trust and highly recommend, they are always well made with real leather and no matter the heel height, you feel securely perched.
I am wearing a size 7 UK, 40 EU, 9 US and they fit true to size. Walking 4 inches taller, I feel sexier and more confident, a perfect combination.
I hope you enjoyed this outift and as I mentioned early if you are curious to see and hear more about the SLS LAS Vegas Resort and Casino stay tuned.
Carly Elisabeth xx
Skirt: ASOS (love this one as well)
Top: J.CREW 
Heels: Ted Baker
Watch: Christian Paul
Clutch: Clare Vivier
Sunnies: Quay
Lipstick: Nars