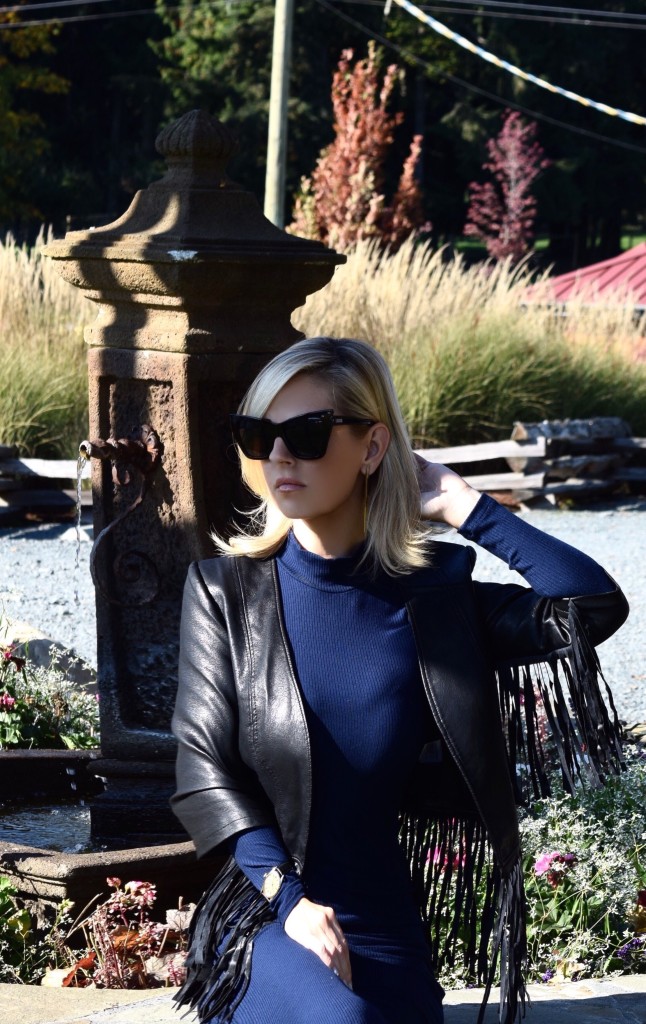 Howdy Y'all, I'm feeling a little country today, what do you think? My goodness, it was such an incredibly beautiful day, just perfect for a road trip. My husband and I were lucky to have an evening away from the kids and what better way to start than with a pit stop at a Winery. It was purely by chance that we came across Unsworth Vineyards and how pleased we were. Both my husband I would would highly recommend you add them to your list of places to try, the food was fabulous and the wine was, well perfect. While the lovely waiter showed me there large selection of gluten free options, we sat outside on there patio overlooking the vineyards. The only sound you could hear was the hens clucking, talk about sipping from the cup of relaxation.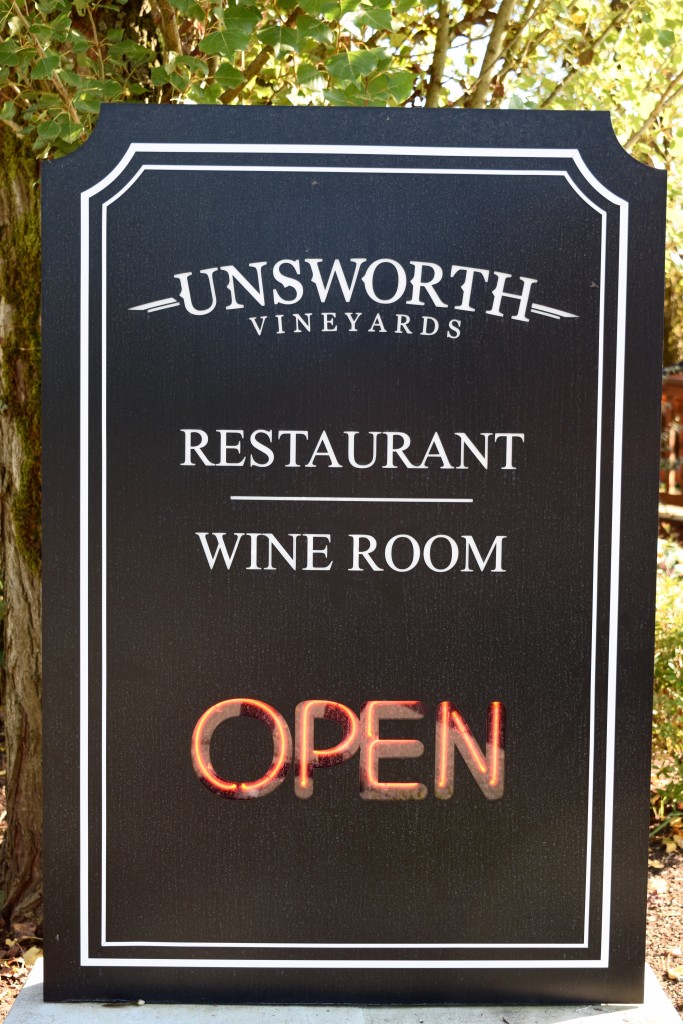 Built on family and a passion for wine & food.
Meet Tim and Colleen Turyk – the visionaries and proprietors behind Unsworth vineyards.
The Turyk family has a long history in the Cowichan Valley area, spending summers at Shawnigan Lake – a much-loved lakeside community that has been attracting families for generations. Tim's mother Marjorie summered at the lake as a child and made it a part of her own family ritual, bringing Tim and his sisters there every year.
Having grown up watching Cowichan Valley's homespun wine and food culture evolve, Tim's ears perked up when he heard about a small vineyard and winery that was for sale in the fall of 2009. After 40+ years working in BC's fishing industry, he was looking for a new challenge.
One look at the spectacular property and early 1900s farmhouse, and Tim knew he'd found something special. Colleen saw the vision too and they bought the farm, so to speak.
It was the heritage around Marjorie that inspired the name – Unsworth was her maiden name.
From expanding the operation and restoring the farmhouse, to building a brand around sustainably managed vineyard practices, the Turyks and their team have built Unsworth one vine, one bottle, one blend at a time.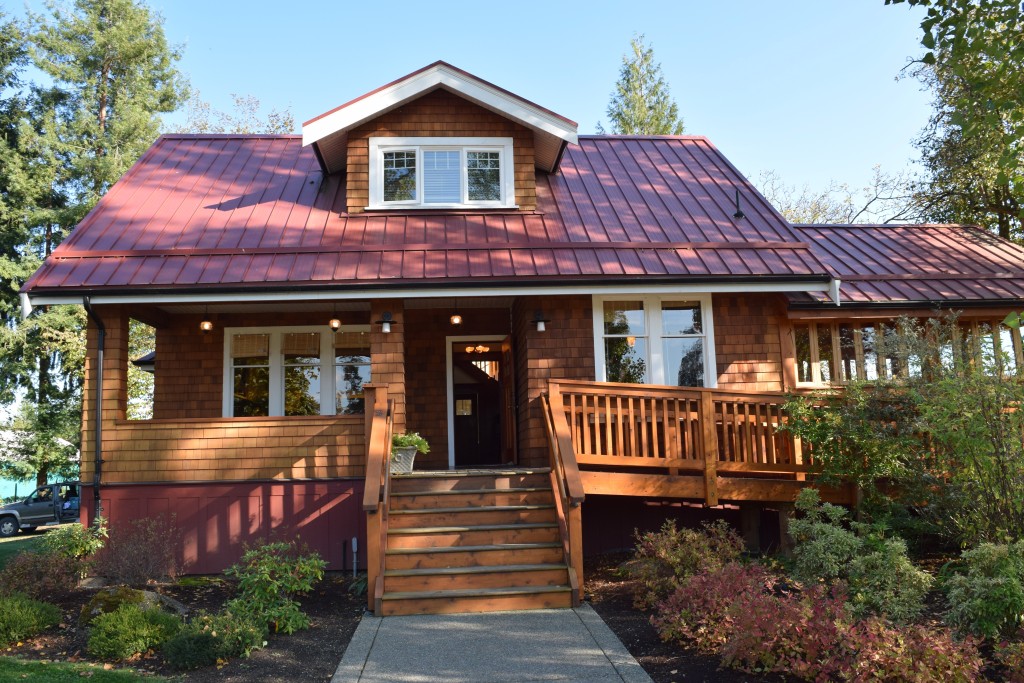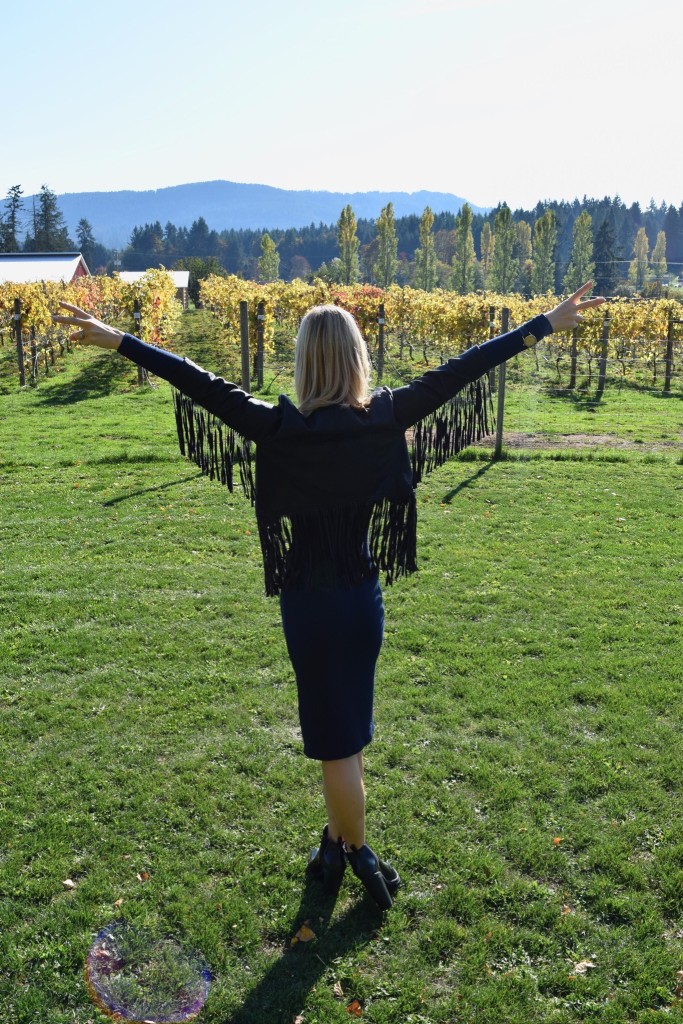 What am I wearing? Where do I begin? This whole ensemble was centered around needing a pair of rain boots and of course they had to be heeled. When I found this pair of glossy Melissa booties, I was in love. The blend of classic style and modern construction, they were exactly what I was searching for. The heel measures in at 4 inches and is very easy to walk in, the elastic gores allow you to pop them on and off with ease. Why Melissa over Hunter? I love Hunter boots, I own quite a few pairs of them. However the boot shaft is taller even on the heeled Hunter ankle boots, which is fantastic in skinny jeans or leggings but for skirts or dresses, showing more ankle is a must.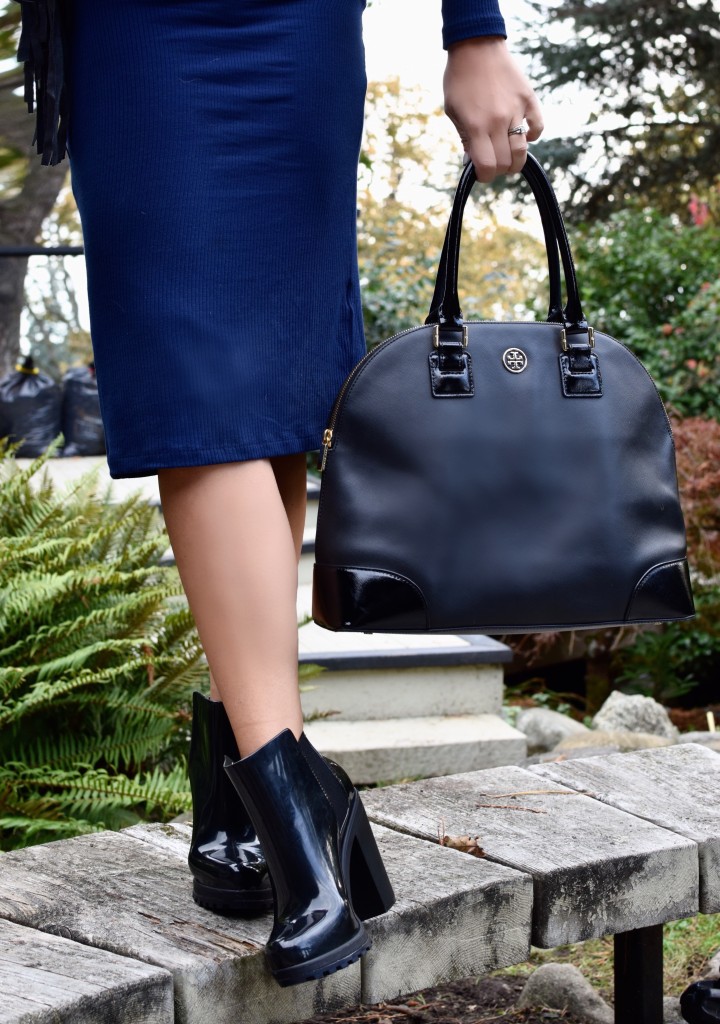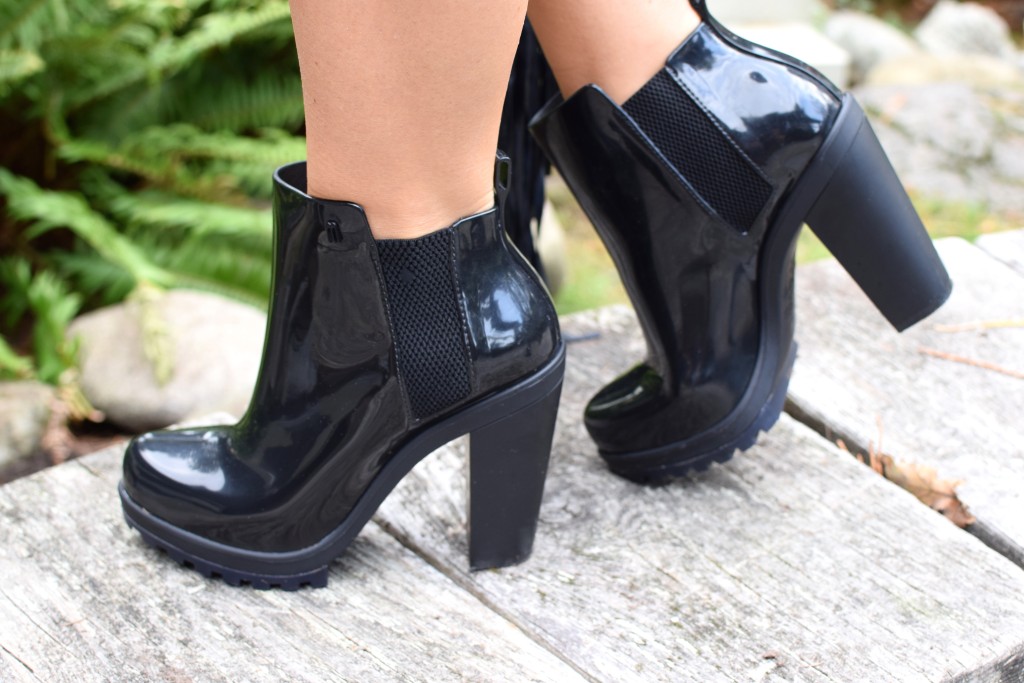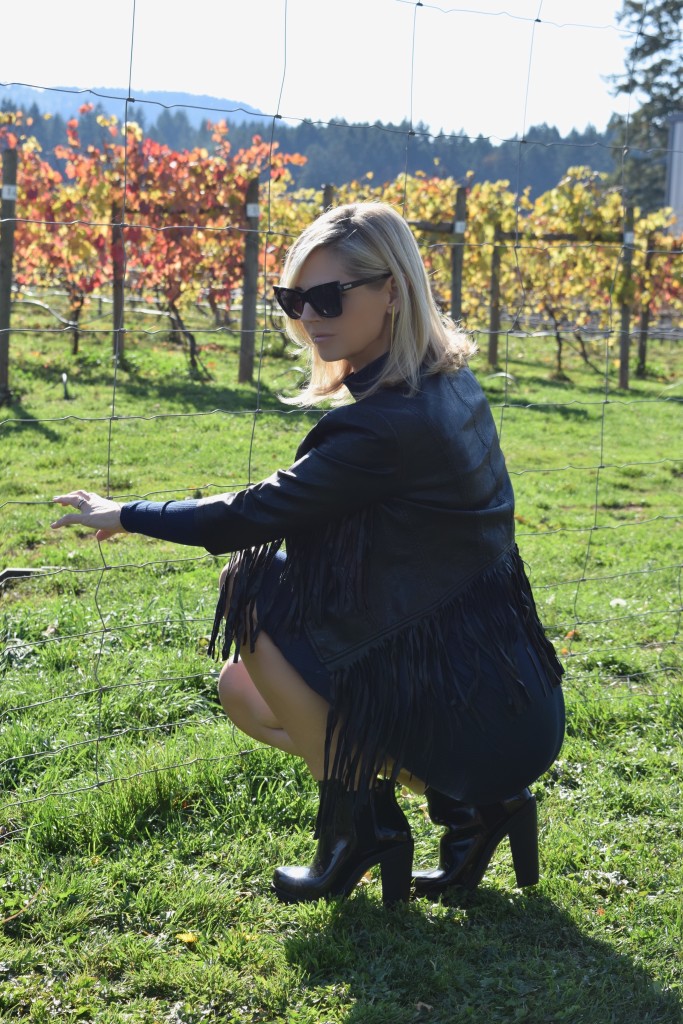 Let's talk about fringe baby, all the good things, all the bad things, lets talk about fringe! How fabulous is this jacket? My goodness, this has been on repeat since it came in the mail. The fringe moves beautifully and at 11″ long, won't get in your way. The half sleeves provide a peekaboo affect and the cropped length emphasizes the smallest part of your waist. I found it to be very true to size and ladies if you have a larger bust line, fear not, it does not require you to buckle yourself in.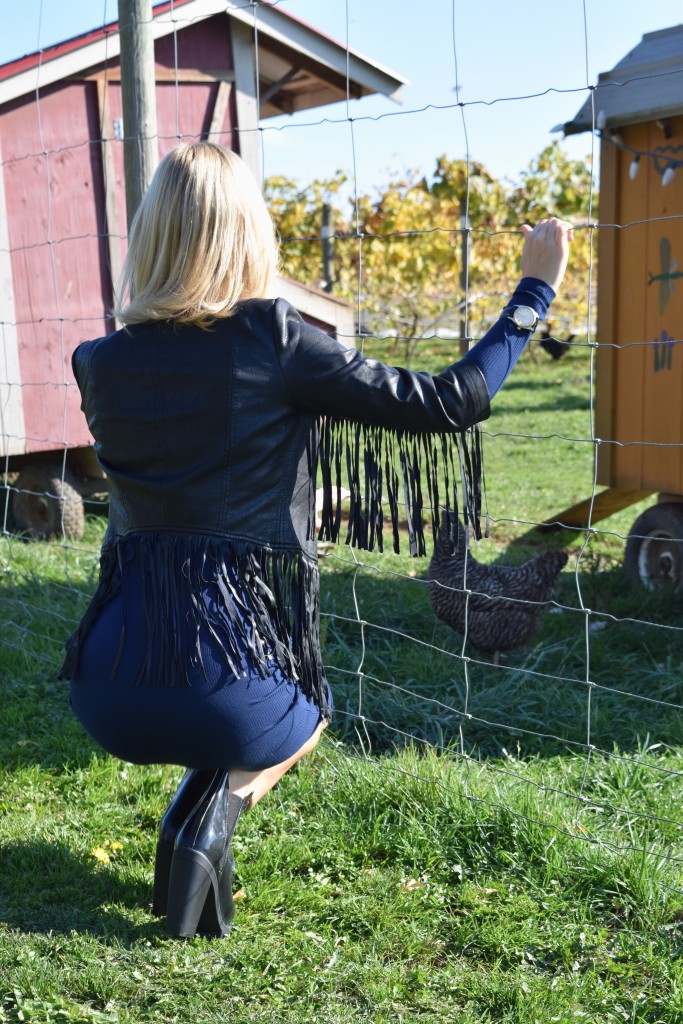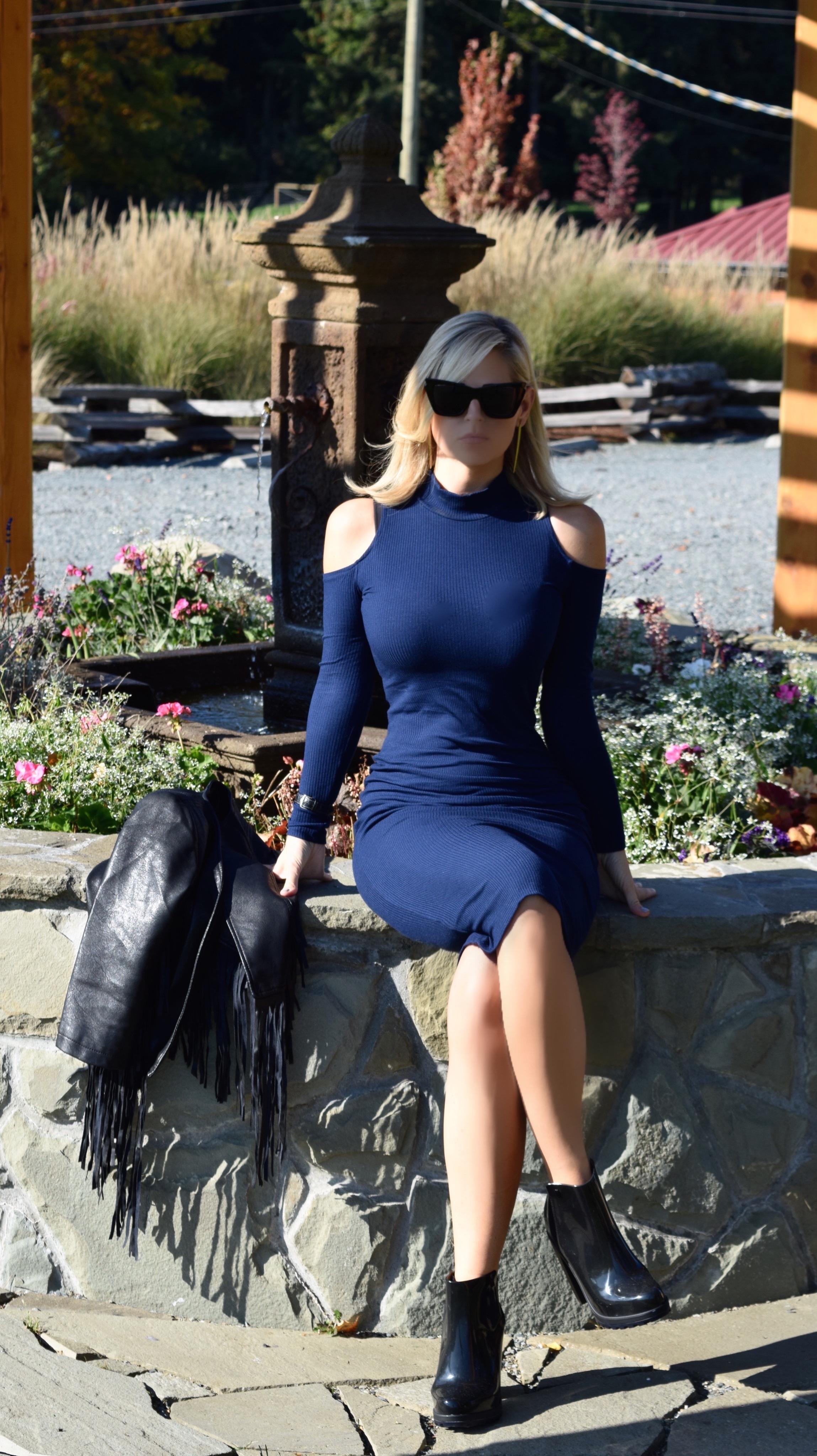 This navy midi dress, from Nastygal, is so incredibly comfy, I could sleep in it. Featuring a mock neck, cut out shoulders and stretchy fabric, I promise you will  rock the room.  Paired with your favourite kicks, sky high heels or as I have done here, heeled wellies, you cannot go wrong. I bought a medium and was so happy when it arrived and it fit like a glove, without being see through.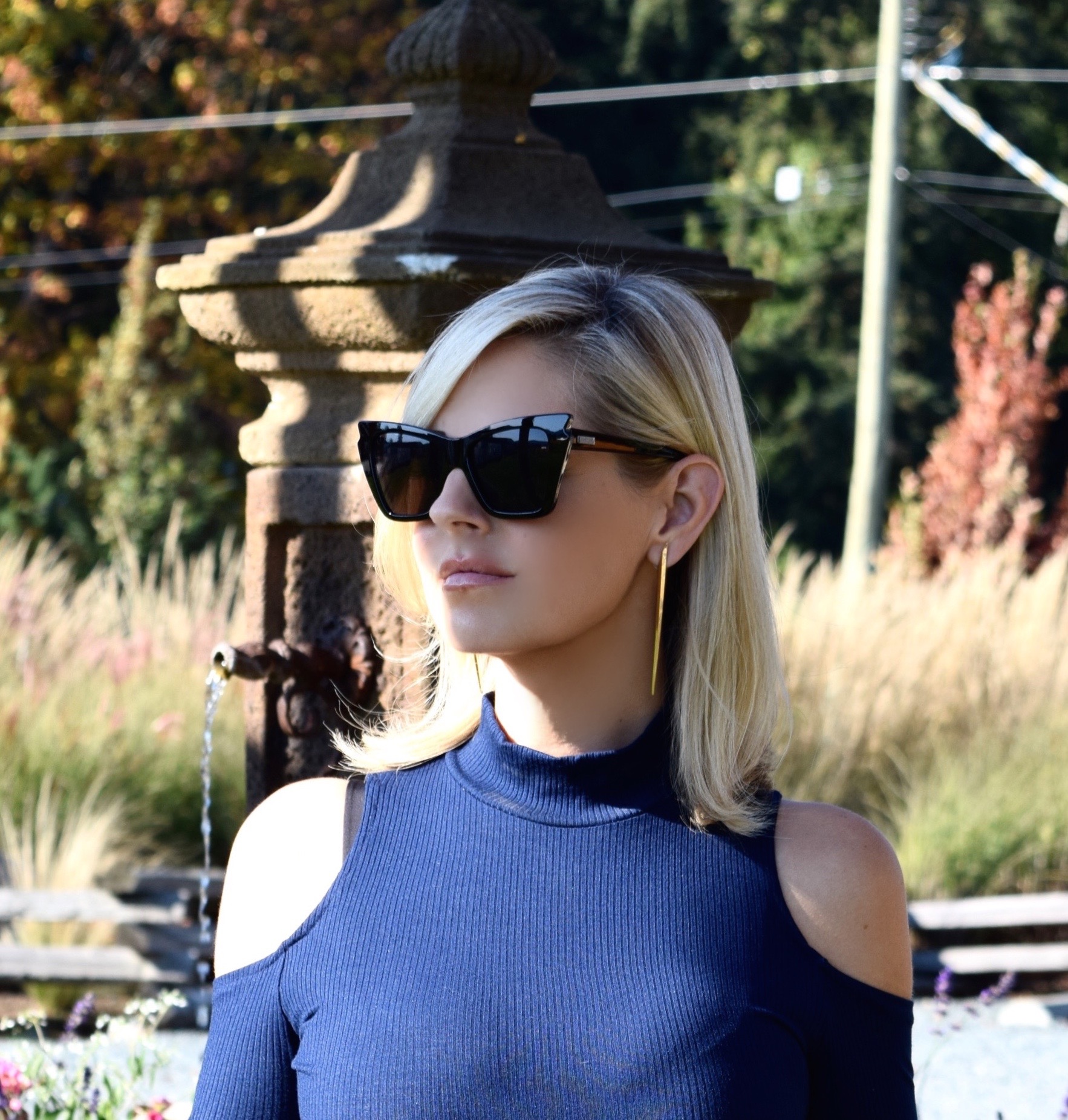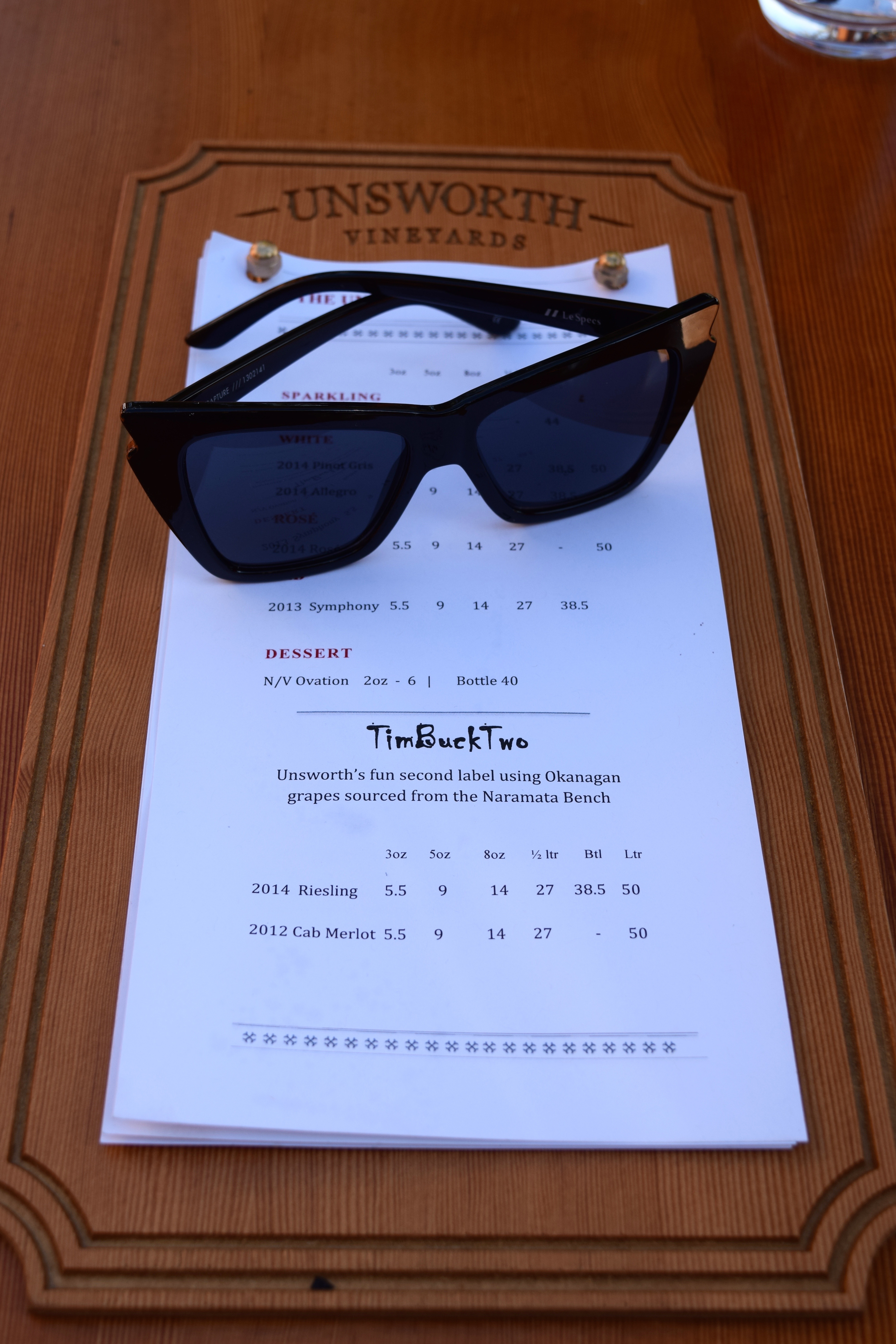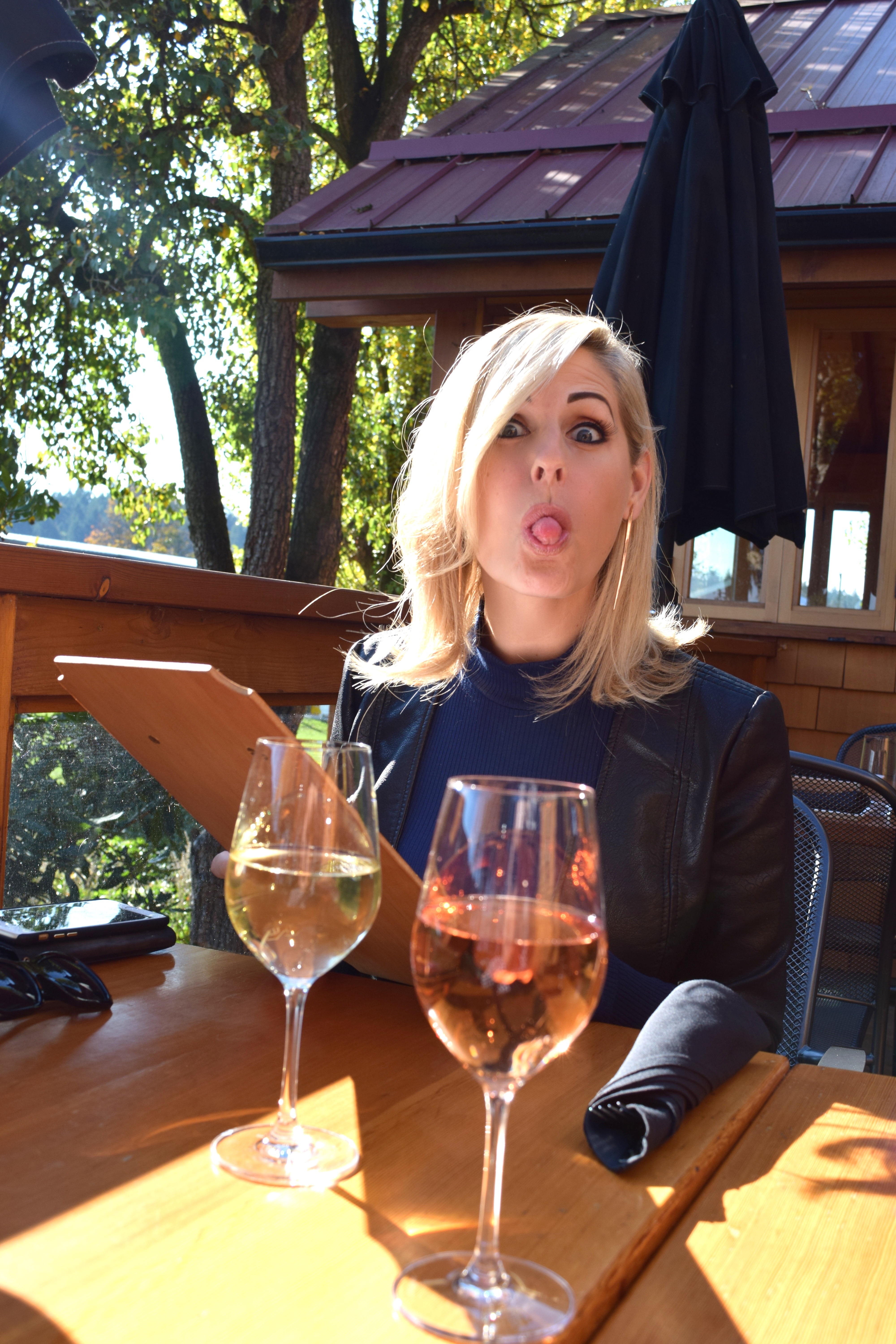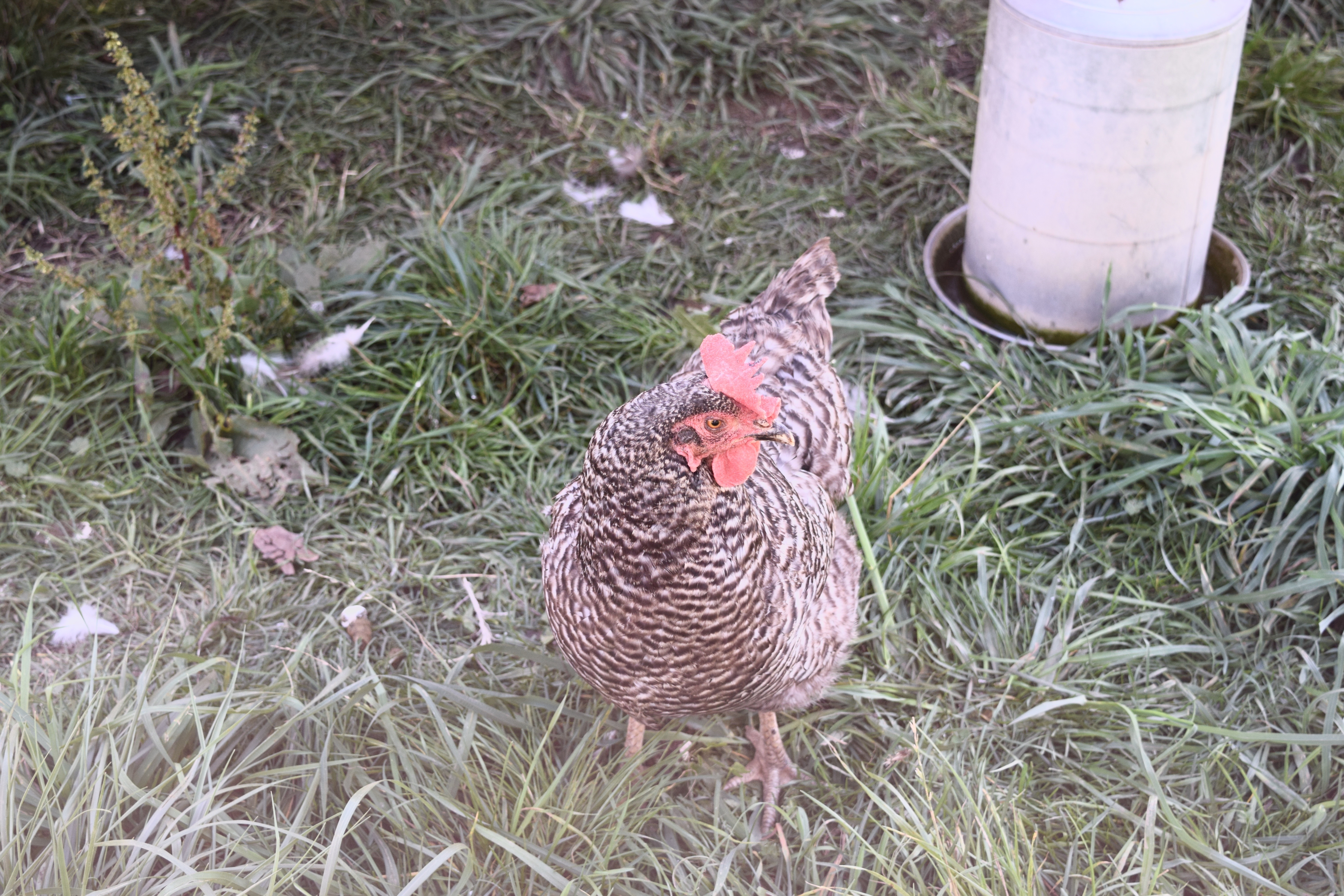 I hope you are all having a fabulous weekend, kick those heels up, pour a glass of your preferred drink and enjoy some quiet contemplation.
Cheers, Carly Elisabeth xx
Boots: Melissa Solider Booties
Jacket: Glamorous Dropping a Line Black Vegan Leather Jacket 
Dress: Nasty Gal Line It Ribbed Midi Dress – Navy 
Sunglasses: Le Specs Rapture Cat-Eye Shades